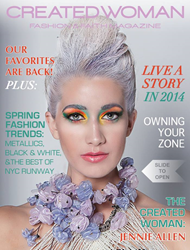 "Our hope and prayer is that through Created Woman Magazine and Style Speaks, we change the lives of women from the inside out revealing who you are created to be." - Heather Frierson
Austin, TX (PRWEB) March 19, 2014
FashionMingle.net, a nationwide network for fashion entrepreneurs, is joining Created Woman Magazine on Sunday, March 23, 2014 from 2-6pm in Austin, TX to celebrate the launch of their new Austin Fashion Directory and the spring issue of Created Woman magazine, which includes FashionMingle.net's New York Fashion Week coverage.
The Style Speaks event will feature lifestyle and beauty panels that will engage on topics ranging from fashion to faith, designed to equip and empower the Austin fashion community. The evening will close previewing the latest collection of 12 year-old Austin-based fashion design Isabella Rose Taylor, who recently inked a deal with Nordstroms. The fashion show will also feature spring fashions from local Austin boutiques; Luxe Apothetique, Bevello, Altar'd State & Desiring Eden.
The Style Speaks event is produced by MODISH and hosted by FIAT of Austin. The tickets are $25 online and $30 at the door. Swag bags will be given to the first 100 guests who attend, with more giveaways throughout the day.
The event will also celebrate the launch of FashionMingle.net's new nationwide network for fashion entrepreneurs. Founder Melissa Shea created the network with the goal of providing a PR platform for local fashion communities. With 105 metro areas in the nation-wide fashion directory, she is launching the first network in her hometown of Austin, TX. Now a New York resident, the FashionMingle.net team is still predominantly based in Austin and is closely aligned with the Austin fashion community.
Shea originally built her first version of the Austin Fashion Directory as a beta testing platform under the banner of Fashionably Austin with founder Cheryl Bemis. "After many years of testing and programming we're ready to launch the nationwide network to help organize and support local fashion communities from the ground up," says Shea.
Attendees of the Style Speaks event will be able to register for the Austin Fashion Directory free of charge to celebrate the launch. The new iteration of the directory now includes a private social network designed to connect fashion entrepreneurs in all 105 metro areas so they can collaborate and share expertise in a private, supportive environment.
Style Speaks is the brainchild of Created Woman founder Heather Frierson, whose magazine is focused on "becoming the woman you were created to be". In addition to the quarterly Style Speaks events promoting the latest edition of the magazine, Frierson takes her team on the road to share her faith-inspired message and fashion expertise as guest speakers for events.
About FashionMingle.net
FashionMingle.net is a network for fashion entrepreneurs to share, discover, and mingle. The business directory and social network creates a PR platform for fashion entrepreneurs to promote their services and grow their business. More information can be found at FashionMingle.net.