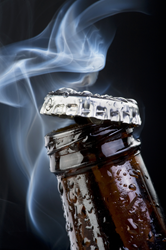 Every April, Alcohol Awareness Month exists to spread awareness of this vital issue. It's simply not acceptable for any community to live not knowing how many lives are destroyed by alcohol abuse.
Albion, Michigan (PRWEB) March 20, 2014
Narconon Freedom Center Releasing New Information on Alcohol Abuse During Alcohol Awareness Month
This year, Narconon Freedom Center is launching a national campaign to get as much literature as possible out to the public for Alcohol Awareness Month this April. The facility works to rehabilitate those struggling with alcohol or drug issues but also informs the public of the dangers of alcohol and drug use in general. By educating communities on how deadly drug addiction and alcoholism are, the Freedom Center is able to prevent more addicts from being created. This is a mission it cannot do alone, however. A key part of educating the public is teaming up with public education initiatives. Right now, Narconon Freedom Center is supporting Alcohol Awareness Month.
The Many Dangers of Alcohol Addiction
Thousands of Americans suffer from the effects of alcoholism every day. Drinking booze can hurt an individual in the short run by causing alcohol poisoning, but it can also hurt a person in the long run by contributing to everything from liver disease to cancer. The quality of life for alcoholics and their families is lowered, as well, simply due to the lifestyle that an alcoholic leads.
Alcohol abusers can be violent and easily fly into rages, hurting both themselves and innocent bystanders. When an alcoholic isn't violent, he or she may still be sunk in apathetic stupors, contributing nothing to the family that needs him or her. In addition to the short-term dangers of alcoholism, then, there is also the long-term damage to consider.
Not many Americans know that there is a heightened risk for the children of alcoholics to become alcoholics themselves. There may be a genetic component that runs in families, but it's more likely that alcoholic parents are simply setting a terrible example for their children. Growing up in an alcohol-infused household means that kids are subconsciously learning that this is somehow proper behavior for the way adults are supposed to act. When alcoholism is not handled in older generations, it means that alcoholism will spread to younger generations as well.
Alcohol Awareness Month
Every April, Alcohol Awareness Month exists to spread awareness of this vital issue. It's simply not acceptable for any community to live not knowing how many lives are destroyed by alcohol abuse. By talking to schools, community groups and even individual families, you can make a difference where you live. Talk to your friends and loved ones in order to give them the vital information about the real dangers of drinking. You might just end up saving someone's life down the line.
How Narconon Freedom Center is Helping
Narconon Freedom Center is taking the opportunity of Alcohol Awareness Month to release new information about alcohol abuse and alcoholism. The center will be releasing this information so that anyone can access this information, no matter where they live in the world.
The Freedom Center will also be doing local drug prevention talks by traveling in the local community. The center will talk in local schools in order to reach out to the teens that are most affected by the widespread drug culture that has taken over across our country.
A main focus of the talks will be to deliver the truth about drugs and alcohol to these young people in order to counter the myths and falsehoods that many young people believe. When a teen's only source of information about alcohol is his friends, there is a much higher likelihood that he will end up using it. Narconon Freedom Center will work to bring awareness of the truth this month.
For more information, visit their main site at http://www.narcononfreedomcenter.org or call 877-362-9682.
References:
HealthFinder.gov: April Alcohol Awareness Month http://healthfinder.gov/NHO/AprilToolkit.aspx