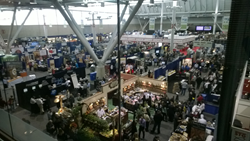 More than 67% of the exhibit hall is already booked for next year.
Portland, ME (PRWEB) March 26, 2014
The 2014 edition of New England's largest trade show for retail and foodservice industries wrapped up last week, hosting more than 16,000 foodservice, retail and restaurant professionals and buyers. The New England Food Show, produced in partnership with the Massachusetts Restaurant Association, was held March 16-18 at the Boston Convention and Exhibition Center in Boston, MA. The annual trade event took place alongside Seafood Expo North America, the largest seafood industry event in North America; approximately 6,000 seafood professionals and buyers from the seafood show attended the New England Food Show.
The three-day trade event featured an exhibit hall of more than 350 exhibitors, 20 education sessions, 4 culinary demonstrations, plus dozens of new products and show buying specials. Each day, the aisles of the show floor were packed, with exhibiting companies and buyers giving accolades to this year's networking opportunities. "Exhibitors were very pleased by the quality of buyers that came to that show this year," says Bob Callahan, Show Director of the New England Food Show. "We received very positive feedback that buyer-exhibitor relationships were being made and that expectations were exceeded for most exhibiting companies. Overall, the 2014 was a great success, and we look forward to having another successful show in 2015." New England Food Show exhibitors showed very positive feedback and were eager to book for 2015 to secure their space, with more than 67% of the exhibit hall is already booked for next year.
Each year, the New England Food Show offers an extensive industry-education program to all attendees. One popular event at the recent show was the first-annual culinary cook-off, which featured three talented, local chefs competing for bragging rights and a $500 cash prize. After 45 minutes of heated preparation, the chefs (Tim Maslow of Ribelle, "Nookie" Postal of Commonwealth and Brendan Pelley of Zebra's Bistro) each presented three dishes to the panel of judges. Chef Tim Maslow of Ribelle (Brookline, MA) took away the first-ever title of New England Food Show Culinary Cook-off Champion, as well as the cash prize. Other education program highlights included a mixology competition, culinary demonstrations from four New England chefs, education sessions, a barista demonstration and a smoothie demonstration.
New England Food Show will return to the Boston Convention & Exhibition Center in 2015 (March 15-17). The 2015 event will once again take place alongside Seafood Expo North America. The 2015 exhibit hall will be opened to new companies in the coming weeks; companies wishing to reserve exhibit space in the 2015 event should email sales(at)nefs-expo(dot)com or call (207) 842-5536. For information about attending the 2015 show, or to download a copy of the 2014 Show Guide, visit http://www.nefs-expo.com.
About New England Food Show
The New England Food Show is produced by Diversified Communications. Sponsored by the Massachusetts Restaurant Association and supported by other New England state restaurant, retail, hospitality and specialty food associations, NEFS is the region's largest and most attended trade show for retail food and foodservice buyers and professionals. http://www.nefs-expo.com
About Diversified Communications
Diversified Business Communications provides information and market access through magazine publishing, online resources and trade exhibitions on four continents. Diversified's core markets include the commercial marine, natural and organic, food and seafood industries. In addition, they produce leading events across several markets such as finance, building and construction, healthcare and textiles. http://www.divcom.com