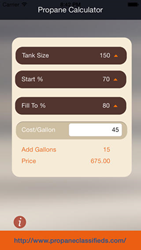 Drivers and propane professionals need the proper tools to accomplish their mission
Houston, TX (PRWEB) March 19, 2014
A new computer application has been developed to assist propane industry professionals determine the proper maximum targeted LP gas fill levels on common ASME tank sizes.
A & D Propane, Inc. has released its new Propane Calculator app for iPhone, iPad, Android and Windows use.
Robert Dobyns, President of A & D Propane, Inc. and the developer if the app, believes the new application will assist propane bobtail drivers to prevent overfilling incidents, as well as provide a quick and handy reference for drivers and office personnel alike.
"Drivers and propane professionals need the proper tools to accomplish their mission", Dobyns stated. "The Propane Calculator empowers them and allows them to make quick decisions for filling tanks safely. Of course, it is only a reference tool and not intended to replace safe filling procedures using a fixed liquid level gauge."
To download this free tool, visit http://www.PropaneCalculator.com.