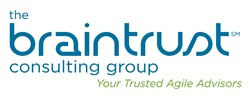 Birmingham, AL (PRWEB) March 20, 2014
The Braintrust Consulting Group announced today that Erick Fleming has joined the staff as Technical Scrum Trainer and Agile Coach.
Fleming will lead all technical training for Braintrust's Certified Scrum Developer classes, Agile Engineering classes, and Test Driven Development classes. His new full-time role will allow him to concentrate exclusively on developer training while setting the curriculum for all Braintrust developer-focused classes across the country.
Previously, Fleming served as a Senior Consultant to The Braintrust Consulting Group, teaching classes since 2011. Erik Fleming, CSM, JCD, MCT, MSCD, is a Certified Scrum Trainer as well as a certified .NET and Java Developer with over 17 years of programming and training experience. He holds a Bachelor's Degree in Management Information Systems from University of South Florida and has spent most of his career training and consulting with organizations on technologies ranging from .NET and Java to Linux and other open source tools. He specializes in cloud-based web solutions.
Braintrust President, Brian Rabon said, "We are so excited to add Erick to our team of expert trainers. His knowledge of software development and programming languages is a huge addition to Braintrust's already outstanding suite of services. Erick's knowledge and experience in the field of software development is in the top 5% of anyone in the country."
The Braintrust Consulting Group is a worldwide leader in Agile transformations. Through practical, hands-on training and enterprise and team coaching, they help clients learn, plan, and implement Agile processes, such as Scrum and Kanban. Their goal is to teach clients how to increase predictability of delivery, decrease time-to-market, and improve overall client satisfaction.
###
About The Braintrust Consulting Group
With offices in Birmingham, Alabama, Los Angeles, California, and Salt Lake City, Utah. The Braintrust Consulting Group is a worldwide leader in Agile transformations. Through practical, hands-on training and enterprise and team coaching, we help our clients learn, plan, and implement Agile processes, such as Scrum and Kanban. Our goal is to teach our clients how to increase predictability of delivery, decrease time-to-market, and improve overall client satisfaction. http://www.braintrustgroup.com