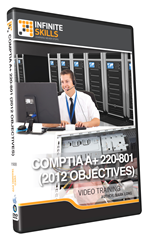 Learn CompTIA A+ 220-801 and prepare for the exam at your own pace.
(PRWEB) March 19, 2014
Software training firm Infinite Skills Inc. this week introduced its "CompTIA A+ Training Course," an introductory course designed for aspiring information technology professionals seeking to acquire entry-level A+ certification.
The CompTIA A+ certification is the entry point for new IT professionals. The exams target on the maintenance of personal computers, mobile devices, laptops, operating systems, and printers.
Infinite Skills' CompTIA A+ 220-801 (2012 Objectives) Training Course provides a detailed and comprehensive guide to the first of two exams for A+ certification, which is focused on computer hardware components, networking, and printing.
CompTIA A+ 220-801 (2012 Objectives) Video Tutorial - Streaming
Course author Mark Long is a trainer, consultant, and technical writer, specializing in information technology. He has worked in IT for more than 30 years, with 18 years at BellSouth Telecommunications where he was as a trainer, developer, network architect and administrator, and data security specialist. Long has also worked for large companies and organizations including the US Air Force, Rockwell International, and Mercedes-Benz, among others.
Following a course introduction and an overview of A+ certification, Long begins with operational procedures, explaining the basics of computer safety, power use, documentation, and more. He continues with a chapter on personal computer hardware, including BIOS, the motherboard, expansion slots, and other basics.
The course then covers computer memory and storage, as Long teaches basic concepts like RAM, internal drives, optical drives, storage devices, and more, before moving on to cover working with connectors, cables, and pins.
Other chapters target the A+ exam content on networking, including various kinds of networks and the protocols that allow information exchange, and network devices, such as modems and routers.
The course closes with a look at working with various kinds of printers and some basics of working with people in the technology industry.
"In this course, we'll go through all the objectives of this exam," Long explains. "We'll talk about various aspects of this information so that you can understand, use, and in some cases memorize, crucial exam content."
Free demo videos and a full list of course contents can be found on the CompTIA A+ 220-801 (2012 Objectives) Tutorial page of the Infinite Skills website:
http://www.infiniteskills.com/training/comptia-a-plus-220-801-2012-objectives.html
Infinite Skills offers its CompTIA A+ 220-801 (2012 Objectives) Training Course Training Video either as a DVD or a direct download from the company website at a retail price of $99.95. Though the compatibility of programs varies, all Infinite Skills titles and formats are compatible with both Mac and Windows operating systems, and shipping is available around the globe. Additionally, Infinite Skills tutorials are supported by project files which correspond to examples in the videos.
About Infinite Skills Inc.
A leader in the field of software training, Infinite Skills designs its courses on a task-oriented model, teaching complex skills by providing hands-on examples and guiding users as they carry out essential functions. Infinite Skills offers a wide range of software titles available as DVDs, digital downloads, and in iPad editions. Infinite Skills now offers a subscription service, providing access to all its training content for a monthly fee, keeping with company's aim of delivering professional training to customers anywhere they want to learn.