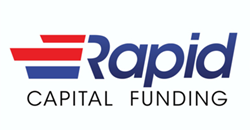 Helping Small Businesses Grow since 2007
Miami, FL (PRWEB) March 20, 2014
Recognizing the need for dedicated leadership in the area of sales and marketing, Rapid Capital Funding, one of the fastest-growing companies in the small-to-medium-size business financing industry, has added Pablo G. Camus to its leadership team. Camus accepted the position of Executive Vice President, Sales & Marketing (CSO), effective immediately.
Camus has extensive experience in a variety of industries, including insurance, construction and mortgages, both in the United States and South America.
"Pablo's background in these various fields, along with his firm understanding of entrepreneurial endeavors and challenges, makes him an ideal candidate for this crucial position within our organization," said Craig Hecker, CEO of Rapid Capital Funding. "Pablo thinks like a business owner because like me, he has been a business owner in various industries. And, that is precisely what continues to give our company an edge when it comes to servicing our borrowers."
"We deal with so many self-starters when we advance," said Hecker. "And, Pablo is a self-starter, not only in his businesses, but also as a former professional tennis player. When we look for people to fill these leadership roles, we want the best of the best in terms of who can think like these business owners who come to us for support. That's yet another thing that sets us apart in this industry. For every new client, we end up with two renewals, and people like Pablo help us with this trend."
Rapid Capital Funding has experienced 100% growth during the last six months, and the company is on track to grow 200% in the next 24 months. Unlike most of its competitors, RCF works with a direct origination platform. Company employees deal directly with borrowers, rather than allowing them to interface with third party funding entities.
"We develop relationships with our borrowers, and Pablo, like the rest of our team, is a huge proponent of this model," said Hecker. "We continue to combine technology and ease-of-use to make the borrowing process much faster and much clearer to our customers who seek an alternative to traditional bank loans. This has helped us make extraordinary inroads in the industry, and we will continue to build on this strategy in the months and years to come."
About Rapid Capital Funding
Rapid Capital Funding was founded in 2008. Developed for business owners by business owners, the company is committed to using the finest technology and data processes to assess the financial viability of small businesses and deliver capital to this market, which is many times underserved by traditional bank loans. RCF's team of experienced financial executives focuses on businesses and their overall performance and growth, many times assisting owners in addressing critical shortcomings and effectively helping to strengthen market share and presence. For more information, visit http://www.rapidcapitalfunding.com.