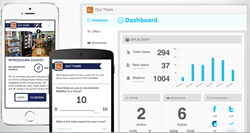 Mobizou delivers incredible results by making it easy to deliver the right message at the right time and place.
Calgary, AB (PRWEB) March 24, 2014
The Mobizou Engage platform provides premium retailers with custom white label mobile apps for iOS and Android – the app uses the latest location-based mobile marketing technologies to help premium retailers connect with customers in a new way. Mobizou's technology can even be fully integrated with existing POS systems.
Mobizou Engage gives premium retailers access to the emerging location-based marketing trend. Mobizou greatly simplifies entry into the mobile marketing space by providing fully branded iOS and Android apps specifically designed for the retailer's business, and completely manages the entire process. Mobizou builds, publishes, and maintains the retailer's custom app, allowing them to focus on their business. Mobizou takes care of the headaches that come with mobile apps so that retailers don't have to.
"This enhancement to our platform was driven by feedback from our existing retail clients, who were looking for a better way to engage with potential new customers." – Arpad Barabas, CEO
Mobizou Engage lets retailers deliver location aware content to their customers via a custom mobile app. When a customer enters a pre-determined location (geo-fence), the Mobizou system recognizes them and pushes relevant content, specific to that retailer, directly to their smartphone. The platform easily allows the retailer to create and manage content and geo-fences tied to their store locations, special events, or even competitors, quickly, and in real-time.
"Mobizou delivers incredible results by making it easy to deliver the right message at the right time and place." – George Achilleos, Mobizou Customer, Out There Adventure Centre
Additionally, Mobizou's new "Share and Earn" plug-in delivers a customer referral platform and a customer satisfaction survey tool. The Share and Earn plug-in is a highly customizable toolkit that invites current customers to share their great customer experiences with friends, and allows them to earn rewards for doing so. A customer's friends can also receive a special voucher to redeem against their next purchase. Vouchers and offers are fully customizable, making the Share and Earn toolkit flexible enough for virtually any retailer.
The survey tool helps retailers measure customer loyalty, and is based off of Net Promoter Score principles. This includes a comprehensive customer survey module allowing retailers to measure customer sentiment towards their brand. Retailers control when and where their customers receive surveys, making it a fantastic tool for gauging the impact of an individual promotion or event.