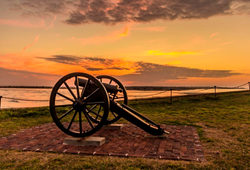 Charleston, SC (PRWEB) March 20, 2014
Fort Sumter Tours is launching a new "Sunset Tour to Fort Sumter" beginning Friday, March 21st, 2014 and continuing each Friday evening thru October 2014.
Another spring, long ago during a very turbulent time in our Nation's history, on April 12th, 1861… the first shots were fired on Fort Sumter and so began the American Civil War. Learn more about this amazing historic site as you cruise Charleston's harbor, and upon arrival at the Fort, are greeted by a National Park Rangers. Walk in the steps of those who shaped this nation. Fort Sumter Tours is the only authorized National Park Service Concessioner providing tour boats to Fort Sumter National Monument. Fort Sumter Tours is the recipient of a 2013 "Certificate of Excellence" awarded by TripAdvisor.
During the relaxing Sunset Tour ice-cold beer, wine and your favorite cocktails will be available for purchase on the way to and from the fort. Complimentary hors d'oeuvres with a Southern flare will be served on the return trip from the fort. Guests will experience a waterside view of the historic architectural gem that is Charleston, SC and has been voted "Top City" in the USA by Condé Nast Traveler. Professional images by PhotoGenics are offered to commemorate the experience. Personal cameras will not be idle, either. Natural Lowcountry waterway sunset views complimentary, explosively colorful and amazing. It is common to enjoy dolphin sightings running alongside the boat when underway.
The rates for these special Friday evening Sunset Tours: Adults - $42.00 per person; Children - $30.00 per person (4-11); Senior - $16.00 per person; Children 3 & younger - FREE. The Sunset Tour will last roughly 2 hours and 15 minutes. Boarding will begin at 5:00 p m. with a departure from Liberty Square at 5:15 p.m. From there enjoy the 30-minute Charleston harbor cruise to the fort. Upon arrival to Fort Sumter, you have an hour to explore where the American Civil War began before the return cruise starts at 6:45 p.m. Restrooms are available onboard. All major credit cards accepted. It is recommended that you arrive 15 minutes prior to any departure time. Please note that the Sunset Tour departs from Liberty Square in downtown Charleston, SC.
Booking online, or by phone, is easy. Cancellations, with refunds, accepted up to 24-hours in advance. Walk-in reservations are welcome at the 340 Concord Street - Liberty Square, window on a space-available basis. Parking nearby is easy at the SC Aquarium garage or metered on-street.
Learn more about this new seasonal tour and other exciting cruises and tours available by calling 1-843-722-BOAT or visit fortsumtertours.com for reservations.
About Fort Sumter Tours
Fort Sumter Tours is proudly owned and operated, for more than 50 years, by a local Charleston family with generations of maritime heritage. Fort Sumter Tours is an authorized National Park Service Concessioner operating the only commercial U.S. Coast Guard approved boat transportation to Fort Sumter National Park. Join the more than 12 million passengers that have already experienced more than 100,000 Charleston boat tours and events hosted by Fort Sumter Tours - Charleston's Premier Cruise Fleet. Learn more by visiting fortsumtertours.com, by phone at 843-722-2628, or by visiting the Fort Sumter Facebook page: Facebook.com/FortSumterTours.