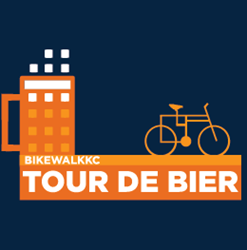 Our riders love knowing that not only will they have a great day riding their bike and exploring both historical and new breweries, they are making KC a better place to live, work, and play. - Eric Rogers, Executive Director of BikeWalkKC
Kansas City, MO (PRWEB) March 20, 2014
The Tour de Bier KC, KC's original beer-themed bike ride, is seeking sponsors for this year's event, taking place May 18, 2014. Proceeds benefit BikeWalkKC, the region's cycling and pedestrian advocacy group. By becoming a sponsor, businesses and organizations will help further BikeWalkKC's mission of creating a more active and healthy community, while also gaining visibility to more than 1,200 cyclists and attendees.
BikeWalkKC is expecting more than 1,000 riders this year, and their goal is to raise $50,000 for their educational and outreach activities. BikeWalkKC coordinates education programs for youth and adults, hosts events throughout the year such as Bike Week,Tweed Ride and Handlebar Happy Hours, and works with local agencies to advocate for improved pedestrian and cyclist facilities.
"We can not hit this goal without the continued support of our riders and participants," says Eric Rogers, Executive Director of BikeWalkKC. "The Tour de Bier is our biggest event of the year, and our riders love knowing that not only will they have a great day riding their bike and exploring both historical and new breweries, they are making KC a better place to live, work, and play."
The Tour de Bier KC has 15, 30 and 60 mile route options and includes stops at Boulevard Brewery, Big Rip Brewing Company, McCoy's, Martin City Brewing Company, and a new stop at KC Bier Company in Waldo. The ride will start and end at Knuckleheads Saloon in the East Bottoms.
In addition to brand awareness, benefits of sponsorship include media coverage, promotional opportunities before and after, event signage, and online promotion, through one of the largest and fastest growing biking events in the city. The Tour de Bier KC also marks the end of Bike Week 2014, and sponsorship on fliers, posters, handouts, and website will be seen at over 40 events during the week prior to the ride.
For additional information about becoming a sponsor, contact Sarah Shipley at 202-577-7141 or sarah.shipley(at)bikewalkkc(dot)org. Visit TourdeBierKC.com for more information.