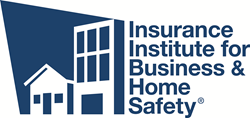 Tampa, FL (PRWEB) March 19, 2014
The Insurance Institute for Business & Home Safety (IBHS) lauds the City Council in Moore, Oklahoma for adopting amendments to its building code that specifically address the impact of tornadoes on homes.
Moore was the site of an EF5 tornado last May, devastating the city, which also had been struck by an F5 tornado in 1999, and an F4 tornado in 2003.
"Moore officials have taken a significant step in trying to reduce tornado damage after three violent tornadoes have devastated this community during the past 15 years. It's encouraging to see a local community take tornado risks seriously and be proactive in the effort to build stronger homes," said Dr. Tanya Brown, IBHS research engineer.
Among the requirements in the revised codes are the use of:

hurricane clips or framing anchors to tie the house together more effectively;
continuous wood structural panel sheathing on all exterior walls to strengthen the home, which must be attached with ring shank nails that provide considerably stronger fastening than smooth nails or staples; and
garage doors that are rated to withstand winds up to 135 miles per hour.
The IBHS FORTIFIED Home program, which is a hazard-specific program establishing superior new construction and retrofit standards, includes many of these requirements, which have been proven to strengthen homes during severe high wind weather events.
"At IBHS, we believe it is possible to greatly reduce the damage caused by EF0 and EF1 tornadoes," Brown said. "While these requirements won't save a home in the direct path of an EF4 or EF5 tornado, the stronger code requirements in Moore will help narrow the path of damage caused by a tornado. Homes built using the new codes that are located on the peripheral edges of a tornado should definitely experience less damage because they will be properly tied together and better able to withstand high winds," stated Brown.
"Hopefully, other states and communities in 'tornado alley' will follow suit. When disasters strike, communities with strong, well-enforced building codes tend to fare better and recover faster than those with weak or no codes at all," Brown said. "The steps we take now toward building resiliency will make us stronger against Mother Nature's continuing onslaught."
About 1,000 tornadoes occur each year in the United States, causing an average of $1.1 billion in property damage and 80 deaths. Fortunately, the great majority of tornadoes are relatively small, mostly damaging roofs, windows, and trees.
"Moore City Council's adoption of these code changes, which will take effect next month before the height of tornado season, will do much to reduce recovery costs, increase community resiliency and safety, reduce government post-disaster aid, and most importantly, save lives," Brown said.
About The Insurance Institute for Business & Home Safety (IBHS)
IBHS is an independent, nonprofit, scientific research and communications organization supported by the property insurance industry. The organization works to reduce the social and economic effects of natural disasters and other risks on residential and commercial property by conducting building science research and advocating improved construction, maintenance and preparedness practices.