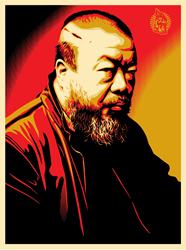 This poster is a tribute to Ai Weiwei's art, his courage to be outspoken, and in support of his ongoing political struggle with the Chinese government.
New York, NY (PRWEB) March 19, 2014
World-renowned contemporary artist Shepard Fairey, who gained fame during the 2008 presidential campaign for his poster of Barack Obama with the word HOPE in bold letters, has designed an inspiring new print of Chinese artist and human rights activist Ai Weiwei, who continues to be denied his passport to travel freely outside of China.
Shepard Fairey created the poster to promote greater awareness of Ai Weiwei's ongoing political situation in China, where he has been under domestic house arrest since 2011. The print was created in support of Ai Weiwei and in collaboration with Friends of Ai Weiwei (friendsofaiweiwei.com).
"My hope is that Shepard Fairey's poster campaign will bring global attention to help Ai Weiwei secure his passport so that he is able to travel to see his museum exhibitions," said Larry Warsh, a close friend of the artist and catalyst for the creation of the poster campaign.
An artist, curator, architectural designer and social activist, Ai Weiwei is one of the best‐known and most successful contemporary artists in the world. He has exhibited in museums and galleries around the world and is well known for headline-making projects, like his design of the 2008 National Olympic Stadium – "the Bird's Nest." For more than a decade, he lived and worked in New York, returning to China in 1993. He was detained in April 2011 for close to three months, causing an international outcry. He is currently prohibited from leaving Beijing and has become an international symbol of the ongoing struggle for freedom of expression and dissent.
"I admire Ai Weiwei for his art and his activism. His art is beautiful in form, and in function embodies the principles of populism and social consciousness I aspire to in my own practice," said Shepard Fairey. "This poster is a tribute to Ai Weiwei's art, his courage to be outspoken, and in support of his ongoing political struggle with the Chinese government. I hope the image will help raise awareness and advance dialogue that might lead to permission for Ai Weiwei to travel freely and continue to express himself."
Fairey, whose work combines elements of graffiti, pop art, printmaking, appropriation art, and Marxist theory, first made a name for himself with his Obey Giant campaign, which he conceived as a student at the Rhode Island School of Design in the late 1980s and early 1990s. The project involved stickering, stenciling and painting slogans such as THIS IS YOUR GOD and OBEY in public spaces in major cities around the globe. Today, Fairey's work is included in collections at the Smithsonian's National Portrait Gallery, the Museum of Modern Art in New York City, the Boston Institute of Contemporary Art, and the San Francisco Museum of Modern Art.
Shepard Fairey's Ai Weiwei print will be printed in a limited edition of 375; the artist is donating 100 posters to the Brooklyn Museum, which will present an Ai Weiwei retrospective exhibition, "Ai Weiwei: According to What?" from April 18 through August 10, 2014 (brooklynmuseum.org). Thanks to Pace Prints for their support.
Media Contact: Brittnie Mabry, Phil & Co., brittnie(at)philandcompany(dot)com, 646.490.6446