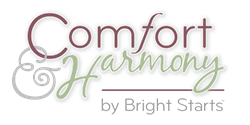 Operation Shower does so much to help new moms prepare for motherhood – many of whom are managing this exciting time without their partners.
Atlanta, GA (PRWEB) March 19, 2014
New moms whose partners are deployed in the military will benefit from a donation between Comfort & Harmony and Operation Shower®. Comfort & Harmony's momboTM and other essential items for newborns will be part of Operation Shower's nationwide initiative to throw group baby showers to expectant mothers impacted by military deployment.
"Operation Shower does so much to help new moms prepare for motherhood – many of whom are managing this exciting time without their partners," said Kyra Mitchell Lewis, Senior Marcom Manager. "We couldn't wait to do our part. We selected the mombo specifically because it does so much to help foster the mom and baby connection."
Operation Shower Founder and Chief Shower Officer, LeAnn Morrissey, said, "Our donors' contributions to our showers mean so much to our organization and the many moms and families we serve. The mombo is a fabulous item and we are so grateful to Comfort & Harmony for their contribution."
Operation Shower's mission objectives include a dedication to deliver high-quality products. Comfort & Harmony's mombo provides both function and style for nursing mothers. The mombo offers two sides: a firm side for nursing and soft side for baby's lounging. The mombo includes a removable vibration unit and the pillow's ultra-soft slipcover is machine washable.
Since Operation Shower's conception in 2007, the organization has hosted showers for over 1,900 military families. In addition, 43 unit-wide showers have taken place across the country from military bases to PGA TOUR sites. At each Operation Shower event, each mother receives a Shower in a Box, gifting the recipient with a product from every mom-to-be category necessary for a comfortable transition into motherhood.
Operation Shower's beneficiaries are individuals and groups, selected on a nomination basis.To nominate an expectant military mom or to volunteer, visit operationshower.org.
About Comfort & Harmony
The Comfort & Harmony brand is designed to exceed baby's comfort needs while appealing to mom's sense of style. Every Comfort & Harmony product incorporates nurturing features, such as ergonomic designs and plush fabrics that are baby inspired and mom desired. Comfort & Harmony is part of the Kids II, Inc. family of brands. To learn more, visit comfortandharmony.com.
About Kids II®, Inc.
Kids II has a 40-year history of inventing and reinventing baby and infant toys and gear and has quickly become one of the world's fastest growing baby product companies. Driven by innovation and a comprehensive brand portfolio, Kids II designs, markets and distributes more than 400 unique baby and infant products, launching 125 new products a year across the globe. The brand portfolio strength runs deep under the Kids II umbrella, which includes Ingenuity™, Comfort & Harmony, Bright Starts™, Baby Einstein™, Disney Baby™, Oball™ and Taggies™. Kids II spans the globe by selling products in more than 70 countries and maintains 13 global offices, including international affiliate operations in Australia, Canada, Europe, China, Hong Kong, Japan, Mexico and South Africa to manage its global operations. To learn more, visit kidsii.com.
About Operation Shower®
Operation Shower® (http://www.operationshower.org) is a non-profit organization dedicated to celebrating and honoring military families by providing joyful baby showers for moms-to-be to ease the stress of deployment, or in cases where spouses are seriously injured. Since 2007, Operation Shower has showered more than 1,900 military moms from the Army, Navy, Air Force, Marines, Coast Guard and National Guard across the United States. Operation Shower accomplishes their mission through hosting amazing baby showers, delivering high-quality products, creating a shared experience and bringing recognition to military families.