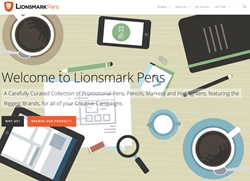 Glen Cove, New York (PRWEB) March 24, 2014
Lionsmark LLC announces the launch of an e-commerce store Lionsmark Pens (http://lionsmarkpens.com) for promotional pens, pencils, markers, and highlighters. Featuring many major brands, with more coming soon, Lionsmark Pens carries some of the most well known products on the market such as Bic, Paper Mate, Sharpie, Expo, and uni-ball. Augmented by boutique suppliers and commoditized writing instruments, the selection on Lionsmark Pens is chosen to faithfully carry the customer's brand.
Customers can visit the site (http://lionsmarkpens.com) to customize products and place orders. The website provides easy access to 24/7 order status and quick re-orders. Production and shipping options are available for expedited delivery to meet quickly approaching event dates. Lionsmark Pens offers a complete solution for all promotional pen, pencil, marker and highlighter marketing needs.
In 2012, only $3.7 billion of the $18.5 billion promotional products industry came from online sales. This was a 53% increase over 2009 but clearly there is room for more growth as more sales transition online. Lionsmark Pens will be positioned to take advantage of this buying shift to provide the customers with the solutions they will be searching for.