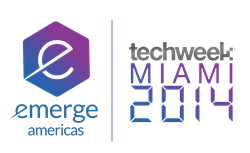 Miami, FL (PRWEB) March 20, 2014
eMerge Americas Techweek today formally announced the Techweek100, a list honoring individuals and organizations from a cross section of the bustling South Florida tech community. The Techweek100 features leaders from all aspects of the tech community including prominent investors, active supporters in the startup community, and other innovators that make important contributions to their field. The Techweek100 will be honored guests at eMerge Americas Techweek May 1-7 in Miami Beach. To see the full Techweek100 list, visit http://www.techweek.com/miami/techweek100.
Chosen by the South Florida community and Team Techweek, the Techweek100 is not a ranking, but rather a list celebrating 100 influential technology leaders and organizations who are impacting the business and technology world on a significant scale.
"The Miami tech scene is characterized by a unique intersection across the technology, government, finance, healthcare, education, entrepreneurship and entertainment sectors," said Alex Siegel, director at Techweek. "Our Techweek100 Miami honorees are reflective of the diverse, progressive, and truly amazing city they have invested themselves in."
Following a special reception for the Techweek100, eMerge Americas Techweek will host the 1st Annual Black Tie Rave charity gala celebrating the Techweek100 and in support of the future of Miami's entrepreneurial ecosystem. The Black Tie Rave will benefit Endeavor and Miami Dade County Public Schools, two highly innovative organizations at the forefront of technology. The Black Tie Rave will be a by-invitation-only event from 9pm to midnight on March 27 at the Ocean House on South Beach.
eMerge Americas Techweek kicks off May 1-7, with the conference and expo on May 5-6 at the Miami Beach Convention Center in South Beach and will feature more than 100 speakers, STEM Tech Olympiad, Smart City Expo, eMerge Games, Network For Teaching Entrepreneurship (NFTE) competition, the eMerge Techweek LAUNCH Competition, Hiring Fair and a FashionTECH runway show.
To learn more about eMerge Americas Techweek, visit http://emergeamericas.org.
To register, visit http://emergeamericas.org/register.
To contribute to the Black Tie Rave, visit http://blacktierave.org.
###
ABOUT TECHWEEK
Techweek is a seven-day conference, expo and festival where entrepreneurs, tech visionaries and thought leaders meet to enable the innovation ecosystem in the cities of Chicago, Detroit, Los Angeles, Miami and New York. Techweek curates exciting programming that allows a global spotlight to shine on each ecosystem and its leaders. Past speakers include Rahm Emanuel (Mayor, Chicago), Travis Kalanick (CEO, Uber), Craig Newmark (Founder, Craigslist), Barney Harford (CEO, Orbitz), and Chuck Templeton (Founder, OpenTable). The Techweek expo has gathered more than 200 sponsors, including companies such as Google, Groupon, Microsoft, Motorola, Redbox, Uber and Wordpress. The after-parties at Techweek have become famous for events like the Bootlegger's Ball, attracting sports teams such as Stanley Cup Champions the Chicago Blackhawks and for hosting entertainers like Calvin Harris.
ABOUT EMERGE AMERICAS TECHWEEK
eMerge Americas Techweek aims to serve as the preeminent innovative thought exchange and transform Miami into the technological hub of the Americas. By connecting global industry leaders and investors with the America's top business executives, IT decision-makers, and innovative entrepreneurs, new partnerships will be forged that will spur visionary innovation and technological advancements in the Americas for the betterment of business and society. Summits focused on healthcare, entertainment and media, finance, cities, and education will address the most pressing issues of today and provide solutions and resources to continue the rapid advances of the 21st century. eMerge Americas Techweek Founding Partners are Greenberg Traurig, P.A., the John S. and James L. Knight Foundation, Medina Capital and Miami-Dade County. For more information about eMerge Americas Techweek, please visit: http://www.emergeamericas.org.