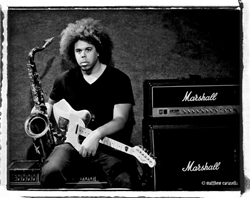 Fairfield, CT (PRWEB) March 19, 2014
Fans of Bruce Springsteen and the E Street Band get ready as the Fairfield Theatre Company welcomes Jake Clemons and his band to StageOne at 7:30 p.m. March 22.
Calling Jake Clemons the "Little Big Man" may hit a bit close to home, but as the nephew of the late legendary E Street Band saxophone player, Clarence Clemons, he has proven himself night after night as the only person who is capable of filling his uncle's shoes.
The 33-year-old grew up as the son of a Marine Corps band director and attended the Virginia Governor's School for the Arts. Having studied jazz performance, Clemons has used those skills to make a name for himself and has played alongside a variety of artists ranging from The Israelites to The Swell Season, yet none more rewarding than that of playing in the E Street Band.
With mixed feelings about joining Springsteen and company for the Wrecking Ball World Tour last year, Clemons has tried to avoid cashing in on his name by performing as Jake Christian. However, those who have seen him perform can't help but hear the family resemblance as Clemons has evolved through touring with Bruce and company. It was never going to take long for Clemons to become a front-and-center presence.
Coming to StageOne in support of his latest album, Embracing the Light, Jake Clemons brings the mysterious, rugged side of Johnny Cash mixed with the soulful down-to-earth voice of Bruce Springsteen. Now stir in Clemons' unique and talented guitar, sax, piano and drums skills and what you get is a night of sheer rock 'n roll.
Come down to StageOne to hear Jake Clemons rock out FTC's most intimate venue. Shows like these don't come along often, and this one should not be missed.
StageOne is located at 70 Sanford St., Fairfield, CT 06824. Doors open at 7 p.m. and advance tickets are $20. To purchase tickets for this event, visit http://fairfieldtheatre.org/.
About the company:
Fairfield Theatre Company is a highly-acclaimed non-profit performing arts organization located in the heart of downtown Fairfield, Connecticut. FTC presents nearly 250 performances and concerts each year featuring outstanding national talent on FTC's StageOne in Fairfield, The Klein Auditorium in Bridgeport, and the Norwalk Concert Hall in Norwalk. FTC's intimate 200-seat StageOne concert venue is widely recognized as being one of the best places to see a live performance in the region. FTC is dedicated to providing the highest-quality arts, live entertainment and educational experiences to the communities it serves.