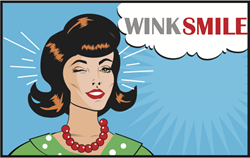 McKinney, TX (PRWEB) March 19, 2014
Bella Donna Chapel is excited to announce that they are opening their very own photo lounge from the newly established company Wink Smile.
Bella Donna wanted to take the photo experience to the next level by creating an open-ended and inviting photo lounge instead of only the typical photo booth. The new photo lounges will be available for weddings, birthday parties, bar mitzvahs, corporate parties and other events. The launch will be on March 15th.
Wink Smile's photo lounge offers fancy fun to all parties with an exciting three-step process. First, they start with a custom designed Wink Smile backdrops suited specifically to the party's theme. Second, they add an endless amount of extras, with guests choosing from chandeliers, disco balls, couches, picture frames and more. Finally, the photo lounge experience is completed by utilizing all the latest technology to give guests extremely high quality photos at lightning speed. Photos are either shared instantly to social networks or printed immediately on 4x6 photo stock.
To learn more about Wink Smile, visit http://www.winksmilepics.com. For more information about Bella Donna Chapel and their new photo studio lounge, call 800-WINK-409 or visit their website at http://winksmilepics.com/.
About the company:
After being dedicated in 2006, Bella Donna Chapel opened its doors to begin holding wedding ceremonies in late 2010. Since then, the chapel has become one of the premier destinations for brides and grooms in the north Texas area. More and more, Bella Donna continues to be chosen as a destination wedding location for couples that live outside of Texas but can't pass up on the chapel's unique beauty for their special day. Featured in such notable media as The New York Times, Wall Street Journal and CNN, it is easy to see why the most popular ceremony dates are booking up a full year in advance.
Management at Bella Donna Chapel is consistently making adjustments to ensure that every bride who gets married here has a smooth and perfect day. Whether a bride has two years or two weeks to plan, the staff is ready to guide her through the process. Those interested can always email or call Bella Donna's staff to see about specific availability and pricing. Additional information can be found by visiting their website at http://belladonnachapel.com/.