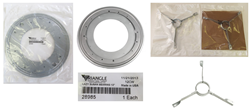 (PRWEB) March 20, 2014
Triangle is proud to announce new packaging capabilities ranging from individual parts to full, multi-component kits. Triangle is equipped to package their multiple product lines with bags ranging from 2" to 20" wide and bag lengths from 3.5" to 40".
Standard bags are "two mil" polypropylene, with thicker options available in case of sharp products. Packaging is available for individual parts such as lazy susan bearings (3", 4", 6", 9" and 12"), HVAC components, mounted bearings and most standard products. Triangle is also exploring full packaged kits for products with multiple components, such as thrust bearings.
Kitting and packaging by Triangle is a practical option for both OEMs and distributors who can utilize bagged parts for resale, easier handling, or service and repair applications. Triangle can design, produce, package and ship a stamped component without having to introduce an additional vendor.
Triangle also offers customizable options for labeling. The most cost-effective option is directly printing on the bag with bar code, logo or part numbers options. Other choices, such as utilizing branded packaging or labels are available.
Pricing will be based on volume. Samples can be made available.
About Triangle Manufacturing
In business for over 90 years, Triangle Manufacturing is a US-based company that has grown from a small job shop to a high-volume supplier of HVAC motor mounting brackets, mounted bearing assemblies, lazy susan turntable bearings and custom designed rod ends, linkages and creative assemblies. Triangle Manufacturing Company has used a foundation of experience, paired with technical know-how and advanced automation to be the leader in fully customizable metal fabrication, product innovation and invention.
In addition to a complete bearings and mountings portfolio, Triangle's driving force is creative engineering. We have introduced and redesigned fresh products that are progressive in the agriculture, automotive, HVAC and display industries. With sales offices in Europe, Triangle is poised to supply OEMs anywhere in the world; we're a company with global reach and international customers.
For more information, samples or quotes, visit us at http://www.TriangleOshkosh.com.