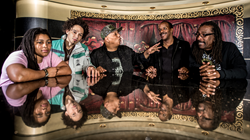 Fairfield, CT (PRWEB) March 19, 2014
Couldn't make it to Mardi Gras or Jazz Fest this year? Don't worry, because Fairfield Theatre Company is bringing the best bands and performers the Big Easy has to offer right here to Fairfield County.
Kicking off this month-long celebration of New Orleans music will be Bonerama at 7:30 p.m. on March 27th. Bonerama brings something different than most bands who come out of the Big Easy, by evoking vintage funk, classic rock and a unique style of improvisation, which audiences have to hear to believe.
Featuring one of the most sought-after horn sections out of New Orleans, The Bonerama Horns, Bonerama continues to incorporate the same dynamics of the Dirty Dozen who started the "anything goes" concept, by pushing the boundaries of their music to the next level by combining brass, funk and rock with jazz, gospel, blues and a touch of reggae.
And on April 3rd, FTC welcomes piano/organ player Joe Krown and his dynamic Trio, featuring Russell Batiste Jr.and Brian Stoltz of the Funky Meters.
Joe Krown may not be a household name but he has been playing his brand of jazz, blues and funk for over three decades, both as a sideman and as the leader of his own groups. This collaboration lineup will have funk intensity, the big sound of the Hammond B-3, the masterful drumming skills of Russell Batiste Jr. and the classic sounds of guitarist Brian Stoltz, a true guitar hero who has played with artists such as Bob Dylan, Edie Brickell, Linda Ronstadt, the Neville Brothers, Dr. John and Aaron Neville.
And speaking of the Neville's FTC is thrilled to welcome back at StageOne on April 6th, Ivan Neville's Dumpstaphunk. Formed in 2003, Dumpstaphunk was initially assembled by keyboardist Ivan Neville who put together the band on a whim as he was performing a solo slot at the New Orleans Jazz and Heritage Festival. Dumpstaphunk is now considered one of the most prodigious modern funk ensembles to come out of the big easy.
If those shows haven't excited audiences yet then FTC will make audiences mouth water with The Southern Soul Assembly at the Norwalk Concert Hall on April 9th. The event will feature a who's who of talented southern singer/songwriters' including JJ Grey, Marc Broussard, Anders Osborne and Luther Dickinson. Each of the four musicians comes to the SSA with a proven track record in the often-overlapping genres of music most closely associated with the south.
"That's where we all come from," says JJ Grey. "The south is in each of us."
One thing is for certain though: the Southern Soul Assembly will live up to its name, drawing from the rich legacy of American Southern culture of the players. Indeed, each member brings a strong Southern pedigree to the tour.
The idea for the band and tour came about, says Grey, because, "Most of us know each other pretty well just from crossing paths on the road. There is a common theme underlying what we each do—it's the south, the landscape and the culture of our surroundings. That theme is present in each of our song collections, but we all have different perspectives and the flavors vary. It's going to be fun, and we're all really looking forward to it."
But like any major festival, FTC is saving the best for last. Over two nights, April 23 and 24, FTC will welcome The Revivalists back to StageOne to close out this musical month celebrating the best New Orleans as to offer.
Having partnered with local restaurant The Chelsea, who will offer a special menu of Cajun food and drink specials over the course of the two nights, FTC welcomes the combination of danceable rock and soulful songwriting, that has made The Revivalists a presence amongst the best original bands out of New Orleans.
The band comes to life through a meticulously crafted and ever-evolving live performance, and have been been instrumental in the growth of New Orleans' burgeoning indie rock scene since 2007.
The Revivalists' songs and styles are influenced by the wide array of great musicians includes the Radiators, Galactic and Anders Osborne. Lead singer David Shaw's thoughtful lyrics, give The Revivalists a rich palette to draw upon, combine with George Gekas's heavy bass lines create a unique sound that all fans in attendance are sure to enjoy.
Head down and join Fairfield Theatre Company in welcoming the best bands New Orleans have to offer and get your tickets now, because this musical gumbo won't last long.
Event and ticket information can be found at http://fairfieldtheatre.org/.
<br>About the company:<br>Fairfield Theatre Company is a highly-acclaimed non-profit performing arts organization located in the heart of downtown Fairfield, Connecticut. FTC presents nearly 250 performances and concerts each year featuring outstanding national talent on FTC's StageOne in Fairfield, The Klein Auditorium in Bridgeport, and the Norwalk Concert Hall in Norwalk. FTC's intimate 200-seat StageOne concert venue is widely recognized as being one of the best places to see a live performance in the region. FTC is dedicated to providing the highest-quality arts, live entertainment and educational experiences to the communities it serves.