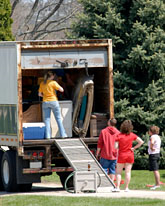 (PRWEB) March 20, 2014
Nearly twelve years in the run, TruckRental.net has completely overhauled its flagship long distance truck rental program to meet the needs of today's marketplace. Nearly six months back, the company's executive board passed a resolution to turnaround its long distance truck rental program and make it more adaptable to current market conditions.
The company has completed its internal processes and has decided to launch the revised portal next week. Several changes that will define the site's new landscape. In addition to an enhanced level of efficiency, customers will now have the option of viewing reviews and evaluations from past customers. Furthermore, the new program includes several top-ranked players that are sure to be a game-changer within the niche of truck rentals.
Lower cost quotes, real time communication with truck rental companies, and a host of innovative features will enable consumers to choose the best providers possible.
"Our long distance truck rental accounts for nearly sixty percent of our internal revenues. Considering the fact that the average bill of a long distance truck rental ranges around $1,700, we decided to revamp our internal backend processes and our front-end site to ensure consumers are able to obtain the best experience, and the lowest rates possible," explains Gary Doran, CEO and founder of TruckRental.net.
Some new innovations that will be provided through the overhaul include:

Lower cost truck rentals. Doran expects the internal changes, especially at the network level, to bring down the cost of hiring a long distance truck rental by nearly ten percent.
Faster quotes, better leverage. On submission of an online moving truck rental quote request, customers can start receiving instant responses. Furthermore, the introduction of real time reviews and improved communication with moving companies will ensure faster quotes and more negotiation power for the site's users.
Social Media connectivity. For the "like and share" customers, the new site features a host of sharing tools that will allow social media fans to instantly share their favorite truck rental companies with their network. Customers can also share their dissatisfaction and complaints across social media networks.
"This increased transparency is critical in improving overall customer experience and delivering the highest levels of service possible," adds Doran.
TruckRental.net is an advanced site that allows users to submit a request and obtain long distance truck rental and moving quotes from a wide range of companies. Although the site's features are absolutely free for end users, quality and reliability have not been compromised. The company has been at the forefront of innovation and advancement and has always introduced tools, features, and functionality that have been way ahead of its time. Doran is often called the "moving guru" by his competitors and is fiercely admired and emulated within the industry.
If you would like more information about this topic visit: http://www.truckrental.net/one-way-truck-rental.html.