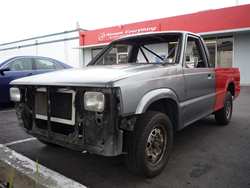 Fremont, CA (PRWEB) March 19, 2014
Almost Everything Autobody recently provided a donation of $600 toward the preparation of Gunn High School's auto tech LeMons project. The high school team is creating a racer to participate in the 24 Hours of LeMons event. The auto body repair shop also contributed to the high school team by painting the Gunn High School LeMons racer.
Gunn High School will be competing in the LeMons endurance race, which will take place March 22-23 at the internationally famous Sonoma Raceway, Sears Point. All-access spectator passes are $30 at the gate. Kids under 16 are free. 24 Hours of LeMons is a humorous take on the oldest, most grueling and prestigious auto race, the 24 Hours of LeMans.
The real LeMans race is held annually in LeMans, France with top auto manufacturers and the fastest cars in the world competing and testing new automotive technologies. Gas, diesel, hybrid and electric cars all appear at LeMans. 24 Hours of LeMons was established in 2006 by car guy and raconteur Jay Lamm as "Endurance Racing for $500 Cars" (i.e. lemons). Events are held throughout the US.
Gunn High School students chose to create a replica of the Pizza Planet delivery truck made famous by Pixar's "Toy Story" as their LeMons entry
"I try to keep it interesting with cool projects like the 'Pizza Planet Truck,'" said Mika Camicia, Gunn High School's auto tech instructor. "We would love to have you come up and join us. Larry Oka [A racing legend and owner of Larry Oka Racing headquartered at Sonoma Raceway] is also usually driving something in this event so you'll probably see him there too!"
Camicia and his wife are both Sports Car Club of America (SCCA) champions and something of racing legends themselves in the San Francisco Bay Area. Camicia would also like to thank Almost Everything for sponsoring the team once again.
"It's very hard to find funding or support for this kind of stuff," said Camicia.
Frank Barnard, Almost Everything's general manager, said, "Kids that learn to build and race cars for the 24 Hours of LeMons better understand the need for safety, the potential and limitations of cars in general and the potential consequences of an accident. It's a great education."
For more information about Gunn High School's project, visit http://www.gunnautotech.com/projects/class/pizzaplanet/. Additional information about the 24 Hours of LeMons race can be found at http://www.24hoursoflemons.com/. To learn more about Almost Everything Autobody, give them a call at 510-494-8200 or visit their website at http://www.auto-body-fremont.com/.
About the company:
Almost Everything Autobody in Fremont offers a number of services, including state-of-the-art auto body repair, car painting and expert collision repair performed by its I-CAR-certified technicians. Almost Everything offers free estimates and the industry's best warranty. They are highly recognized in the industry and have garnered a number of awards, including Best Body Shop in the San Francisco Bay Area by SF A-List and Cityvoter.com; and Best of Fremont for four years, from 2009 until 2013. Almost Everything Autobody's collision center serves the Fremont, Union City and Newark areas.