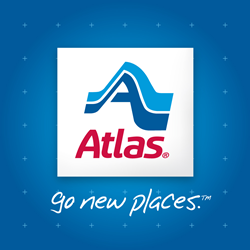 It's an absolute honor to be associated with such a quality organization like AMSA and the renowned individuals that have received this award in years past.
EVANSVILLE, Ind. (PRWEB) March 19, 2014
Atlas Van Lines, one of the nation's leading movers, announces today that current Board of Directors member and former CEO Michael Shaffer has been named the recipient of the 2014 Lifetime Achievement Award for Distinguished Service by the Moving & Storage Institute, the philanthropic arm of the American Moving & Storage Association (AMSA). Known as the moving industry's most prestigious symbol of leadership, innovation, integrity and service, the award is reserved for individuals who have built a reputation for professional excellence and made significant contributions leading to overall industry growth and advancement.
"Mike Shaffer is someone we all have been so proud to have represent this industry: trusted, unflappable, wise and an all-around good guy," said Linda Bauer Darr, AMSA president and CEO. "He is well-respected by his colleagues and competitors alike and a friend to this industry in a way that has served both Atlas and the moving and storage industry so well over the years. I just can't say enough good things about Mike."
From pioneering the industry's first real-time trailer-tracking system to advocating for the use of handheld devices to update the antiquated inventory system, Shaffer has devoted his 38-year-long career to improving the moving experience for consumers, drivers and agents alike.
"Mike Shaffer has dedicated more than 40 years of his life to the moving and storage industry," said Glen Dunkerson, chairman and CEO of Atlas World Group. "He continues to strive for initiatives that improve our image with our customers and make the job easier for the Professional Van Operators (PVOs). He has long been a champion for the PVOs and realizes, without them, our company and industry would be just another commodity."
Today, as a board member, Shaffer builds on his lasting legacy through continuing to support and lend input on ways the moving industry can evolve through the use of mobile applications. Specifically, he has been a huge proponent for developing systems to improve processes for all parties involved. His vocal support in making the household move experience as seamless as possible for customers through the use of technology has also enhanced the connection between consumers and their moving agents.
"It's an absolute honor to be associated with such a quality organization like AMSA and the renowned individuals that have received this award in years past," said Shaffer. "I have dedicated my career and passion to Atlas Van Lines, its valued employees and partners, and the moving industry. Upon this acknowledgement, I can't help but attribute my overall success to the talented and driven individuals that surround me each day and will be forever grateful for their lasting support."
Shaffer dedicated himself to learning about the moving and storage industry from the ground up after being hired on the spot for a dispatcher trainee position at Atlas Van Lines in 1969. He quickly proved himself and moved up through the ranks by displaying his eagerness to become a person of impact on the industry and company as a whole with each new position he was assigned. After 27 years with the company in numerous management and executive-level roles, he was promoted to president and chief operating officer of Atlas Van Lines and Atlas World Group in 1996. Three short years later, he was appointed as chairman of the board and chief executive officer of both companies.
Atlas Van Lines and its 320 U.S. agents are AMSA members. As the United States' leading moving services professional association, AMSA is responsible for establishing nationwide standards and industry guidelines for honest, ethical, efficient and quality services to the public.
About Atlas Van Lines
Atlas Van Lines, a national moving company, is the largest subsidiary of Atlas World Group, an Evansville, Ind.-based company. Atlas World Group companies employ nearly 700 people throughout North America. Nearly 500 Atlas interstate moving agents in the United States and Canada specialize in corporate relocation, household moving services and in the transportation of high-value items such as electronics, fine art, store fixtures and furniture. Additionally, Atlas is a trusted name for logistics and provides a single-source link to total logistics solutions. For more information, visit http://www.atlasvanlines.com.
About The American Moving & Storage Association
The American Moving & Storage Association (AMSA) is a non-profit trade association established in 1936. It has an education foundation (c)(3), The Moving & Storage Institute. AMSA represents more than 4,100 members, including interstate moving and storage companies, local movers, international movers plus suppliers and state association members. For more information, visit http://www.moving.org.