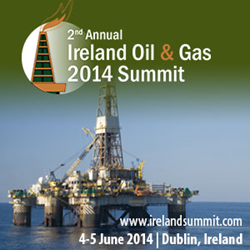 It's an IRN Summit!
London (PRWEB UK) 20 March 2014
During the inaugural Ireland Oil & Gas Summit last September, Minister O'Dowd informed the audience that Atlantic Ireland has hydrocarbon systems but it is down to the industry to find them, and currently, this process is well underway, with key wells being drilled this year; attention is now being focused on developing the vital services required to support an active oil industry.
On the second day of the Summit this year, there will be a panel discussion chaired by David Horgan, the Managing Director of Petrel Resources, with speakers including Tony O'Reilly, the CEO of Providence Resources and Tom Kelly of Enterprise Ireland, which will address how Ireland will adapt to accommodate a burgeoning oil industry.
Other topics to be addressed at this meeting include:

Unlocking Ireland's hydrocarbon potential
Ireland's natural gas industry
Why all the interest in the Porcupine Basin?
Why has Ireland largely evaded the E&P map until now?
PGS - Analysis of the simultaneous acquisition of towed streamer EM and 2D GeoStreamer seismic
Breakdown of Ireland's fiscal regime
Irish petroleum safety framework
Oil and gas exploration in Northern Ireland
Case Study: Larne-Lough Neigh basin
Aberdeen - a blue print for the successful establishment of Cork as the oil capital of Ireland?
Oil and gas assets and infrastructure in Ireland
Retrospective on the 2011 Atlantic Margin Licensing Round
Case study: Newfoundland
For more information, visit the website http://www.irelandsummit.com or contact Lola Bourget at LolaB(at)irn-international(dot)com.