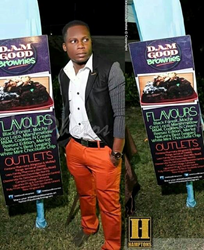 I have achieved significant growth of my small business thanks to the training at the Branson Centre and the mentorship of Joe Issa.
(PRWEB) March 21, 2014
Dam Good Brownies, a little known Jamaican brand of chocolate-based brownies owned by 26-year-old Dominic McDowell, is experiencing significant growth in 2014, which he attributes in an interview, to the mentorship of businessman and philanthropist, Joe Issa, while attending a 12-week training programme at the Branson Centre of Entrepreneurship in Montego Bay, St. James.
"This year, I have achieved significant growth of my small business thanks to the training at the Branson Centre and the mentorship of Joe Issa. I started an awareness campaign and this has paid off with increased production and sales," said McDowell in a recent interview.
McDowell says he started operating from home three years ago but went full scale in January 2013. He says, "At first it was only me and afterwards I employed two workers and was producing 500 units per week. But after I started the training and began interacting with my mentor Joe Issa, I realised that more can be achieved. He encouraged me to expand and very quickly I moved to 600 units per week."
"Upon further consultation with my mentor I expanded further, to 1,000 units per week and within two weeks I will be producing 1,600 units per week," McDowell informs.
Growing his business on a model that involves only manufacturing and distribution, Dominic says he does not want a front store, even when he moves to a new and bigger location within two years. This business model, he states, has been supported by the training.
"My mentor was very supportive of my business model, which is to concentrate on production and distribution only. I don't want to get involved in setting up a sales outlet in front of my factory and he supported that. This means that my new factory does not have to be located on expensive, main street sites", he argues.
Stating that he has benefited immensely from his association with the centre and its mentorship programme, McDowell recalls that fortunate day in December 2012 when he came in contact with the centre for the first time.
"I had a booth at the Jamaica Young Professionals' Market Place and a vendor who was a past Branson Centre trainee invited me to view the centre's booth there and register to join its programme.
"I have absolutely no regrets since doing so; the training was great, we shared our experiences and formed strategic alliances. Joe Issa was extremely helpful. He enabled me to get access to human resources; I could call him and members of his team for assistance. The experience has been good for me; it has helped solidify my business model and enabled me to expand distribution," says McDowell.
He says Joe Issa encouraged him to make several strategic moves, which have enabled the business to expand, including the establishment of a website, http://www.facebook.com/DAMGoodEnterprises to push the brand, which he describes as a cross between a cake and a cookie.
McDowell says he has also employed three Brand Ambassadors based at the University of the West Indies and University of Technology (UTech) to promote the product. He says, "They do sales and create brand awareness and this has led to a significant increase in sales."
The Dam Good Brownies brand, in which 'DAM' represent McDowell's initials has already developed its own logo and other promotional material, which are distributed by the Brand Ambassadors at the universities and at other promotional events.
McDowell says getting to where he is at today has not been easy. "The journey has been overwhelming, in terms of the varied leaning experiences. I had to make a lot of sacrifices to benefit the business and I know that lots more sacrifices will have to be made to get to where I want," he says, stating that the experience so far has been rewarding.
"I got lots of encouragements and some criticisms, in order to improve the business," he says, while encouraging new entrants into business to register with the Centre and seek the mentorship of Joe Issa, who, along with Ben Carson's 'Think Big' have taught me to avoid the fear of failure, be strong, believe in what I want and go for it with confidence."
The Branson Centre of Entrepreneurship – Caribbean was opened in Montego Bay by Sir Richard Branson in September 2011 to support the development of small and growing businesses to create jobs and contribute to the economy in the Caribbean region, says its website, http://www.bransoncentre.org/caribbean/home.html.
Since the launch, 60 entrepreneurs have accessed the programme, representing a wide range of industries, including agriculture, the creative arts, ICT, fashion and accessories, environmental protection and tourism products.
Famously known as founder and chairman of the Virgin Group of some 400 companies, Sir Richards' successful business strategies have been emulated by like-minded persons throughout the world, including his friend Joe Issa who, within 15 years has grown his Cool brand from one to a number of successful companies, according to the Cool Group website, http://www.coolcorp.com.