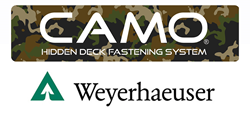 "CAMO Fasteners are top quality and have a solid reputation with contractors...we are excited to build upon our past success with CAMO by expanding this trusted product line into a new market." - David Helmers, Weyerhaeuser Distribution
Grand Rapids, Mich. (PRWEB) March 20, 2014
National Nail Corp. (NNC) is proud to announce Weyerhaeuser's Boise, Idaho, branch as the newest distribution location for the CAMO Hidden Deck Fastening System and CAMO Exterior Screws. CAMO products are also available from Weyerhaeuser's Phoenix distribution center.
Weyerhaeuser Company is one of the world's largest private owners of timberlands, with ownership or control of nearly 7 million acres, primarily in the U.S., and management of another 14 million acres under long-term licenses in Canada via its Wood Products division. Weyerhaeuser offers leading structural frame materials and OSB products, software and technical support, and is also one of the largest building products distributors in the U.S., offering products through more than 300 suppliers.
"CAMO Fasteners are top quality and have a solid reputation with contractors," said David Helmers, Director of Business Development for Weyerhaeuser Distribution. "We are excited to build upon our past success with CAMO by expanding this trusted product line into a new market."
"We are excited to have a second Weyerhaeuser Distribution location join the CAMO ranks," said Mark Aromi, West Coast Regional Sales Manager at NNC. "Building on our strong partnership with Weyerhaeuser, this expansion will allow customers in Northwest markets to have greater access to the CAMO brand of products via a strong, reliable supplier."
The CAMO Hidden Deck Fastening System is a versatile, affordable, easy-to-install hidden deck fastening system designed for both professional deck builders and homeowners. Great for PVC, treated wood, hardwood, cedar and composite decking, CAMO Hidden Fasteners deliver a beautiful, fastener-free deck surface. The patented system includes Hidden Fasteners, Marksman® tools and Driver Bits. Together, they enable fasteners to penetrate the side of the deckboard, allowing screws to be hidden while securing deckboards directly to the joist.
CAMO Exterior Screws are designed for installing all aspects of a deck from substructure to trim, as well as other exterior projects. These color-matched face fasteners complement the colors of leading manufacturers' deckboards and treated lumber to blend in with board surfaces. All CAMO Exterior Screws are ACQ-compatible, and include buglehead and trimhead Premium Deck Screws; Ledger and Multi-Purpose Structural Screws; Composite Screws (for capstock, composite and PVC boards); and buglehead, trimhead, and composite 316 Stainless Screws (recommended for marine environments).
For more information, please visit http://www.camofasteners.com or http://www.woodbywy.com.
National Nail Corp., headquartered in Grand Rapids, Mich., is an employee-owned manufacturer and distributor of high quality, innovative building products and service solutions for the residential and commercial construction industries. Other National Nail brands include Pro-Fit® Fasteners, STINGER® Cap Systems and Impressions Storm Doors and Windows.