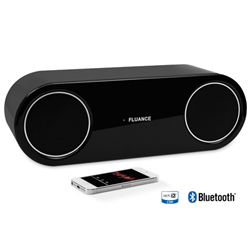 At Fluance it has always been our mission to focus on exceptional sound quality first, we've done that here with the Fi30
Niagara Falls (PRWEB) March 21, 2014
After 15 years in the design and manufacturing of high performance home audio for the masses, Fluance has created a revolutionary Bluetooth speaker system. Putting performance first, Fluance has launched the Fi30 High Performance Bluetooth Speaker System. The new product is simple, powerful and extremely attractive. The Fi30 is a leap forward for Fluance followers and fans worldwide.
With the success of the Fluance FiSDK500 High Performance iPod Speaker Dock, the Fluance development team set out to create an affordable Bluetooth speaker without skimping on performance. The goal was to develop an affordable Bluetooth speaker that would out-perform much more expensive systems in the market. This was achieved by utilizing years of audio knowledge and incorporating those elements into the Fi30 Bluetooth speaker system. Two full-range premium woven glass fiber composite drivers, a powerful integrated amplifier, Bluetooth with aptX enhanced audio technology and a rigid wood cabinet design results in an unmatched, superior performing Bluetooth music system that could easily fill a room. With Bluetooth becoming more and more popular Fluance has made the pairing process a breeze with a simple, and fast connection between the Fi30 and any Bluetooth device. Once the device is paired, the user will automatically connect every time they are within the 33ft range of the Fi30. This eliminates scrolling through menus and options and allows the user to get to listening quicker, a feature that can only be appreciated when experienced.
When Fluance set out to achieve Serious Performance™ in a Bluetooth speaker it was extremely important that wood be used as the cabinet housing material, the same materials used in Fluance home theater speakers. The Fi30 Bluetooth Speaker System has done this with superb results. Unlike popular plastic speaker enclosures, the Fi30 is manufactured with audiophile grade MDF wood to suppress resonance for accurate response and increased warmth. "Overall wood translates into a much more enjoyable listening experience. The result is warm, clear and undistorted sound performances that any audiophile could appreciate" says Deepak Jain, President of Fluance Speakers. "At Fluance it has always been our mission to focus on exceptional sound quality first, we've done that here with the Fi30". The Fi30 is available in a variety of attractive finishes including Piano Black, Glacier White, and Bamboo.
There is no question that Fluance has solidified their reputation for providing superior performing home audio products at an affordable price with the Fi30 Bluetooth Speaker System. The Fluance Fi30 High Performance Bluetooth Speaker System is available now at http://www.Fluance.com for only $149.99 and that will definitely make a splash in the audio market.