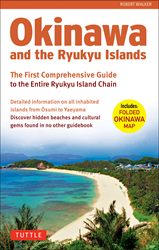 Illustrated with over 200 color photographs and 40 maps, this book provides essential travel tips to help tourists avoid costly mistakes. - Cultural News
North Clarendon, VT (PRWEB) March 20, 2014
Okinawa and the Ryukyu Islands is the first comprehensive guide to the 150-island chain stretching across 600 miles from Japan almost to Taiwan – islands that are some of the most stunningly beautiful and remote places in the world! Experienced author and traveler Robert Walker tells you exactly how to get to each of the major islands, where to stay and what to see there, including:

Detailed ferry and flight information
What historical and cultural landmarks to check out
Where to find the best beaches and surf spots
Sights suitable for families with children
Hikes and nature walks for all ages
Hotels and restaurants on all inhabited islands
Lavishly illustrated with over 200 color photographs and 40 maps, this book provides visitors with essential travel information needed to visit all of the islands and view the sights – including active volcanoes, natural hot springs, pristine white sand beaches, castles, palaces and more. It includes a large fold-out map with detailed inserts of the major islands and towns.
The book releases on May 27 and can be pre-ordered online at Tuttle Publishing, Amazon.com or a bookstore near you.
About the Author
Robert Walker has traveled extensively throughout the Ryukyu Islands for 25 years and frequently lectures about them to groups around the world. He has visited all of the inhabited islands, even the most remote ones.
About Tuttle Publishing
Established in 1948 by Charles Egbert Tuttle Jr. in Rutland, Vermont and Tokyo, Japan, Tuttle Publishing is the premier publisher of English language books on Asian culture. Today, Tuttle maintains an active offering of books on a wide range of topics, including Asian culture, Asian literature, Asian architecture, Eastern spirituality, gardening, cooking, martial arts, crafts, travel, health and wellness, and fine art for a worldwide audience. For more information, visit http://tuttlepublishing.com.