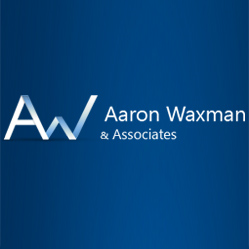 Consult a long-term disability lawyer when benefits are denied
Toronto, Ontario (PRWEB) March 19, 2014
If you have been injured or are suffering from an illness that prevents you from working for a prolonged period of time, you might be considering making an application for disability benefits, or you may already have an ongoing disability claim. There are many things you have to keep in mind when you make an application for long-term disability benefits and throughout the course of your claim.
Long-term disability benefits cover claims related to both physical and mental illnesses. It is important to consult a long-term disability lawyer when benefits are denied or if your claim is not being handled properly by the claims adjuster.
Toronto Lawyer Aaron Waxman, founder of Aaron Waxman and Associates is experienced at helping people with long-term disability insurance claims denials.
Hiring the right lawyer is important, as the legal process can be overwhelming.
Waxman provides the following helpful tips:

Know Your Insurance Policy: Become familiar with your policy wording. What is the procedure for filing a claim? What documents do you have to provide? How much time do you have to file a claim? How much time do you have to appeal a denial?
Record Everything: Keep documentary evidence everything related to your disability case. This includes all correspondence received from your insurer, all correspondence sent to your insurance company and all copies of medical records relating to your case. Your insurer may also contact you by telephone, or send a health care consultant to meet with you and evaluate you; it is important to make notes after all interactions with your insurer and their medical evaluators. You may also want to keep a journal to record your symptoms, pain, limitations, medications and when you go to doctor's appointments and specialist appointments
Be Honest: Tell your lawyer and report to your doctors and treatment providers about all of your symptoms, pains and difficulties you are having. It is important to report any changes in your status. Be honest about your symptoms.
Provide Documentation: Be sure to provide your lawyer with the necessary documentation relevant to your claim. Be sure to provide your lawyer with a copy of your insurance policy, correspondence received from your insurer detailing your benefits status and amount of your monthly benefit. You should also provide your lawyer with a list of your medications, diagnosed conditions, activity limitations and restrictions, and any other document you think may be relevant to your claim.
Read Everything Carefully: Carefully read every word of every letter you receive from your insurance company. Do not sign anything you are unsure of, and ask your lawyer to explain the letter to you if there is something you do not understand.
Don't Just Settle: An experienced lawyer who practices long-term disability law can assist you in negotiating the best possible settlement.
About us:
Aaron Waxman and Associates is a Toronto law firm whose practice is focused on long- term disability claims and other types of personal injury claims including motor vehicle accidents, slip and fall claims, traumatic brain injury claims, spinal cord injury claims, wrongful death claims, critical illness claims and CPP Disability claims.
We only help injured persons; we do not work for insurance companies.
We offer a free, no obligation initial consultation.
We can help you get your life back on track.
Contact us: