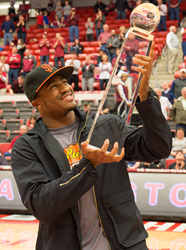 What I had in mind for the presentation; this crushed it.
Pullman, Washington (PRWEB) March 20, 2014
Washington State Cougars safety Deone Bucannon was presented with the 2013 College Football Performance Awards Elite Defensive Back Trophy during the Washington State vs. USC men's basketball game on March 6, 2014. CFPA Executive Director Brad Smith was on hand to present the award at Beasley Coliseum in Pullman, Washington.
The 2013 CFPA Elite Defensive Back Trophy was presented during a special halftime ceremony. Bucannon accepted the award at center court and hoisted the trophy to a standing ovation. Bucannon reflected on the award and presentation experience during a scheduled press conference with local and national media.
"This award, first and foremost, is so prestigious," said Bucannon. "Honestly, it's just a surreal feeling. What I had in mind for the presentation; this crushed it."
Bucannon finished the 2013 season as the NCAA's active leader in career solo tackles (268) and career interceptions (15).
Dating back to 2009, Bucannon is the seventh FBS player to earn CFPA honors at defensive back. Other winners include: Justin Gilbert (Oklahoma State), Phillip Thomas (Fresno State), David Amerson (North Carolina State), Mark Barron (Alabama), Jayron Hosley (Virginia Tech), and Earl Thomas (Texas).
Two Eastern Washington Eagles Presented 2013 CFPA FCS Awards:
Two Eastern Washington Eagles were honored during the Eastern Washington vs. Weber State home men's basketball game in Cheney, Washington on March 8, 2014. Vernon Adams was presented the 2013 CFPA FCS National Performer of the Year Trophy, while Cooper Kupp was presented the 2013 CFPA FCS Wide Receiver Award.
"The idea that Eastern Washington is getting national attention like this is humbling, but it's a lot of work by a lot of individuals like Vernon Adams and Cooper Kupp," said Eastern Washington Head Coach Beau Baldwin. "For Vernon Adams to be the first winner of the CFPA National Performer of the Year Trophy in the history of Eastern Washington is a special honor."
For the Football Bowl Subdivision, Florida State quarterback Jameis Winston earned the 2013 CFPA National Performer of the Year Trophy, while Texas A&M wide receiver Mike Evans earned the 2013 CFPA Wide Receiver Trophy.
CFPA Honors Top FBS and FCS Linebacker Performances:
Buffalo Bulls linebacker Khalil Mack earned the 2013 CFPA Linebacker Trophy. For the 2013 season, Mack contributed 100 total tackles, 19.0 tackles for loss, 10.5 sacks, five forced fumbles, three interceptions, three fumble recoveries, and two touchdowns.
"It's an honor to win this award and be recognized as the best player in the country at my position," said Mack. "I owe a lot to my teammates and coaches who made me into the player that I am, and I share this award with them."
Mack is the eighth FBS player to earn CFPA honors at linebacker. BYU Cougars linebacker Kyle Van Noy earned the 2012 CFPA Linebacker Trophy.
Western Illinois Leathernecks linebacker Kevin Kintzel earned the 2013 CFPA Linebacker Award for the Football Championship Subdivision. Kintzel was recently presented the award during a home men's basketball game in Macomb, Illinois.
"I can actually rank the award presentation in the top five moments of my life," said Kintzel. "It was a great experience to be recognized, especially on Senior Night for basketball. The adrenaline rushing through me; it was really a special feeling."
About College Football Performance Awards:
The goal of College Football Performance Awards is to provide the most scientifically rigorous conferments in college football. Recipients are selected exclusively based upon objective scientific rankings of the extent to which individual players increase the overall effectiveness of their teams. Twenty-one CFPA winners have been first-round NFL Draft selections.