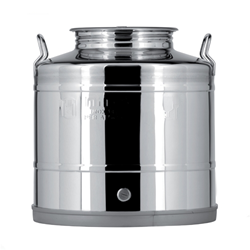 When long-term storage of liquids is critical, a good quality fusti container is your best option.
(PRWEB) March 20, 2014
Italian food specialist, Gourmet Italian, is proud to announce the addition of fusti storage containers to their website. The new product line offers Gourmet Italian customers unmatched food safety and protects the value of their bulk food-grade liquid purchases.
A "fusti," an Italian term meaning "drum," is a stainless steel container specifically designed to safely hold oils, honey, and other liquids, for long–term storage. Once liquids are stored inside, the contents are released by spigot in order to prevent contamination resulting from repeatedly opening and closing the container.
However, quality should be a concern for consumers, because not all fusti containers are made to sufficient standards. Cheap fustis are produced from low quality stainless steel that is "folded" and results in "seams" in the interior. Quality containers are built without interior seams to eliminate the possibility of food accumulation—a contributing cause of bacterial contamination. It's also important for consumers to look for lids designed to seal properly, and that quality stainless steel is used in the product.
Well-made fustis are unparalleled for food safety. "When long-term storage of liquids is critical, a good quality fusti container is your best option," says Gourmet Italian. "Whether your concern is protecting your food investment or health and safety issues, a properly made fusti will ensure your liquids are safe for consumption."
Gourmet Italian's product line of fusti containers range from 3 liter to 50 liter containers, all produced by the M5 Corporation, known for producing fusti containers built with safety in mind.

Joints are welded in a process known as TIG (tungsten inert gas) with no interior seams
Lid seals are manufactured to meet the food storage safety standards of NSF International to ensure a tight seal
Containers are produced from high-quality Italian 18/10 stainless steel
Design is easy to clean and adds an elegant, sleek look to any kitchen
Fustis can be purchased on the Gourmet Italian food website. Additional information on fustis is also available.
Wholesale Food Network LLC operates out of Youngstown, Ohio, and has been doing business under the "Gourmet Italian" name since January 2009. For more information on any of their products, please visit the Gourmet Italian food store website.
Contact Information:
Wholesale Food Network LLC, d.b.a. Gourmet Italian
http://www.gourmetitalian.com
gourmetitalian(at)gmail(dot)com
866.460.0396