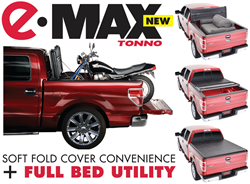 The world's first soft folding Tonneau Cover that still provides FULL truck bed access while driving.
Tampa, FL (PRWEB) March 20, 2014
4 Wheel Online, one of the country's leading aftermarket automotive retailers, has announced that they will be carrying the Extang E-Max Tonneau Cover. Since its debut at last year's SEMA Show, the E-Max has quickly established itself as one of today's premier tonneau covers, providing a mix of flexibility and strength that has never been seen before. With its release, the E-Max became the first soft folding tonneau cover that still provides full truck bed access while driving. This, of course, has been a highly coveted and anticipated feature amongst truck drivers for years.
In addition to their full truck bed access, E-Max Tonneau Covers also include all of today's most important tonneau features. Some of these features include:

A soft tri-fold cover design that provides drivers with increased truck bed flexibility;
Built-in prop rods that help the tonneau to securely lock in a variety of positions;
Patented secure shut latches that keep the tonneau sealed tightly, eliminating water leakage and potential damage from environmental elements.
As a branch of the highly reputable Extang brand, the E-Max also incorporates all of the excellence that has become synonymous with Extang Tonneau Covers. Manufacturing products since 1982, Extang Tonneau Covers is currently America's number one producer of truck bed tonneau covers and pickup truck accessories. Amidst their long and storied history, Extang additionally became the first company to sell tonneau covers nationwide, and their engineers were the original creators of the "No, No Drilling, Clamp-On Aluminum Frame" design.
Over the years, Extang became the first company to invest time and energy into tonneau products because they have always realized their importance to truck owners. Tonneau covers have been proven to be beneficial in keeping trucks looking new and have been proven to increase fuel efficiency. In a recent study for The Specialty Equipment Market Association, Megan McKernan concluded, "The most important result to take away from this wind tunnel test is the fact that tonneau covers did reduce drag, which would help to improve fuel efficiency." In fact, it is believed that tonneau covers can improve fuel efficiency by upwards of 11%, depending on the brand.
Today, there is no better and stronger brand than Extang and no better product on their line than the E-Max Tonneau Cover. This is why 4 Wheel Online is extremely proud to carry the E-Max Tonneau Cover, so make sure to check out the E-Max and the entire line of Extang's products anytime at 4 Wheel Online.