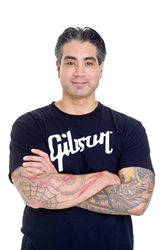 Fort Lauderdale, FL (PRWEB) April 01, 2014
Guitarist and master instructor Dyce Kimura is beginning April with a promotional offer for Fort Lauderdale guitar lessons. In person and online classes are available. For the month of April, former and current students alike have the opportunity to participate in the "Bring a Friend" promotion.
To access the promotion, current or former students should refer a new student to Fort Lauderdale guitar teacher Dyce Kimura. For every new student who is referred and enrolls, Dyce Kimura will offer a complimentary lesson to the student who referred them. This is a great opportunity for students to take advantage of instruction from Dyce Kimura.
Dyce has been working as a guitar teacher for many years and is a familiar presence in the local music community. Having developed both his in studio and online lessons over many years, Dyce has a large network of current and former students. These students have benefitted from his extensive knowledge of the guitar and his encouraging teaching style.
One current student reported, "Dyce's friendly and supportive teaching style immediately put me at ease, and I've referred friends for lessons, and then they've referred friends." The idea for April's "Bring a Friend" promotion originated due to Dyce's high referral rate among current students. Dyce is aware that not everyone can travel to Fort Lauderdale to work with him, in person, at his studio.
Not satisfied by only offering his services in Fort Lauderdale, Dyce Kimura began innovating online space several years ago by offering virtual lessons. Dyce Kimora notes, "The technological advances in video capability and e-learning collaboration have really taken off in the last decade. I wanted to package my expertise and make it available via new media platforms for aspiring guitarists from around the globe."
"Luckily," he continued, "In 2014 we have so many other options. Students can work with me in-person and virtually via Skype guitar lessons. It's wonderful to be able to mentor and teach talented students all around the world."
Dyce Kimura is a versatile guitarist and competent teacher, trained in many guitar styles. As a Skype guitar teacher, he is available to work with all levels – beginner to professional – and students of all ages, including both children and adults. He instructs students on both the electric and acoustic guitars, as well as in a variety of musical styles.
He notes, "I take great satisfaction in giving back to my students whenever I can."
Dyce Kimura is a professionally trained and versatile Fort Lauderdale guitar teacher offering lessons both in-person and online.
Contact:
786-457-3687