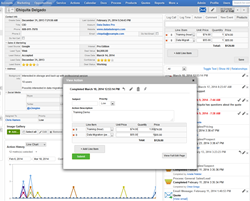 With its improved UI, newly added features, and end-user enhancements, X2Engine v4.0 is a next-level release.
Santa Cruz, CA (PRWEB) March 20, 2014
X2CRM today announced the general availability of X2CRM version 4.0, the next generation of its open source, sales force, marketing automation, and service application for large and small businesses alike in both cloud and download editions.
Key Features of X2CRM :
Web 2.0 Speed Optimized User Interface
X2Identity Web Activity Tracker, now with Google Analytics Integration
Web and Facebook Lead Capture Form Designer
Automatic Web Form Embedding Code
HTML Content Targeting
Newsletter List Generator
Lead Nurturing, Scoring and Intelligent Routing
Contact Activity Management
Time Tracking
Sales Process Workflow Engine
Email Correspondence
Product and Sales Quotes
Customer Service Management
User Profile Home Pages with Modular Widgets
Universal Activity and Event Streams
Custom User Role Designer
Field Security, Roles and Sales Teams
Visual No Code Form Editor for Administrators
Both Cloud and On-Premise Optimized Options
Mobile Access with X2Touch and Responsive UI
Large Scale Marketing Campaign Management
Social Intranet Capability for Sales Teams
Shared Team Calendars and Event Information
X2Studio Application Customization
Extreme Customization and Marketing Automation with X2Flow
X2CRM 4.0 Updates:
Updated Publisher Widget, with User Selected Tabs and New Products and Events Tabs
Expanded Relationships Links for Nearly All Modules, Including Custom Created Modules
Overhauled Data Importing/Exporting System
New X2Platinum Edition with Developer Platform and X2Identity Enhanced Web Tracking
X2Client Services Including Administrative Training, Developer Support, and Business Integration Consultancy
Default Themes and Partner Branding
X2CRM Authorized Partner Program for Qualified Resellers
Overhauled Importer/Exporter Tool: Get the Data You Need
The latest version of X2CRM's sales force and marketing automation CRM application includes an improved import/export feature. It's now easy and more reliable than ever before to import contacts into X2CRM. Additionally, the records of nearly every individual module can be exported or imported so users can now seamlessly export all their accounts or import a list of corporate products. New to the X2Platinum edition is also the ability to import and export individual X2Flows, allowing improvements to automation productivity.
Publisher Widget and Relationship Links: Display Connections Between Records, Create and Edit Events On the Fly
The publisher widget will see greater customization in X2CRM 4.0. The tabs displayed along the top of the widget will be user selected. There will be two additional tabs to choose from: Events and Products. These tabs allow the smooth and quick association of quoted products with a contact record, or action and event assignment without having to leave the contact's page. Created events can now be edited inline, straight from the widget itself.
X2Platinum Edition and X2Identity: Consistent High Performance Platform
X2CRM 4.0 sees the inclusion of a brand new edition: X2Platinum. As a developer-centric platform, X2Platinum edition includes two sandbox licenses for internal testing. The edition also includes X2Identity, the newest, most persistent web tracking tool in X2CRM's history. X2Identity provides an alternative method to track contacts without cookies, by taking a "browser fingerprint" of the contact when they fill out the web lead form. X2Platinum users receive a complimentary hour of administrative training, and priority consideration on bug fixes and service escalations.
X2Client Services: Get Up and Running Fast
X2CRM's new Client Services offer training and consultancy for a number of issues. General Administrative Training will help you familiarize yourself with the ins and outs of X2CRM, show you what's possible with the powerful toolset of X2CRM features, and explain configuration settings and parameters.
X2Developer Support provides guidance to validate design and development decisions, offer technical feedback including assistance with web tracking and data migration, and consult potential X2Engine customization projects. These services may include integration of third party applications or commissioned feature requests.
X2Expert Services provide the necessary advice on how to best optimize X2CRM for any business vertical. An Expert Services consultant will study your individual business goals and objectives, then provide advice on the best way to configure and optimize X2Engine for your requirements. This training is appropriate for senior executives, VPs of Sales, Marketing, CFOs and CEOs.
X2CRM Authorized Partner Program: X2CRM Announces Resell, Support, and Development Partnerships
X2CRM's global span has reached installations in over 160 countries across the world. The X2Authorized Partner Program is designed to help X2CRM and its partners reach out to those clients and contacts in a more effective way. For all software resellers and CRM Solutions Specialists, the X2CRM Partner Program is a great way to do business with the X2CRM platform as a keystone to vitalize your product suite. X2Partners resell and support X2CRM products and offer regional and industry specialization. Authorized Partners can modify X2CRM's appearance to match their own branding identity, according to X2CRM guidelines. Conditions apply, contact X2CRM for more information.
About X2CRM:
X2CRM, Inc. of Santa Cruz, California, was founded in 2011 by John Roberts, a SugarCRM co-founder and Customer Relationship Management software entrepreneur. The company provides sales & marketing software and cloud hosting services for X2Engine products, including X2CRM, a next generation open source, sales force and marketing automation customer relationship management system for small businesses, as well as X2Professional and X2Platinum editions. X2CRM has been installed on over 8,000 public and private cloud servers across 160+ countries.
X2CRM is headquartered in beautiful Santa Cruz, California, a short 40-minute drive from San Francisco International Airport.
For a live demonstration, a detailed feature list, screenshot and video library, please visit: http://www.x2crm.com.
X2Engine and X2CRM take advantage of the latest open source software including Apache, PHP, MySQL and Linux (LAMP).
Additional Resources:
Follow @X2Engine on Twitter.
Test drive a free trial: http://www.x2engine.com/live-demo-server/.
BitNami X2CRM Stack: http://bitnami.org/stacks/x2crm