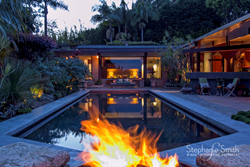 Grayfox has long been a preferred haven for Hollywood's elite.
Malibu, CA (PRWEB) March 19, 2014
Elaborate geometries, Southern California dialogues and light-filled spaces have made the architectural aesthetic designs of John Lautner an inspiration to many. The extent of his influence has been so great that the architect's works have, over the years, eclipsed the design world and developed a star following in their own right.
Counting hundreds of equally dynamic and influential structures to his name in Los Angeles and Southern California, Lautner homes have garnered an A-list status, making appearances both in notable films and as trophies to Hollywood elite.
With the combination of architectural pedigree and celebrity status, Lautner's designs have more than held their value over the years. Furthermore, while it is a rarity to see a Lautner home come to market, when they do, the coveted residences come at quite a premium.
"It's hard to imagine Los Angeles or Palm Springs without John Lautner's designs," said Scott Garner, House of the Day columnist for Curbed National. "His iconic, forward-looking homes have set the standard for modern residential architecture, creating a style that's instantly recognizable and distinctly Southern Californian."
Illustrating this point is a recent multimillion-dollar sale of the Garwood Residence in Malibu. With a closing price of $14 million, the sale of this verdant property overlooking Little Dume represents, from a monetary point of view, one of the largest sales of a John Lautner-designed home. The purchase price is the third-most ever paid per square foot for one of the architect's five remaining designs in the Malibu area.
The sale is also the latest to add to Lautner's celebrity following; actress Gwyneth Paltrow and her husband, Coldplay frontman Chris Martin, were the buyers. After buying a beautiful Windsor Smith-designed mansion in Mandeville Canyon for $9.995 million in 2012, the celebrities now stake claim to one of the premier properties in Malibu.
Presiding over more than one acre on Grayfox in the exclusive Point Dume neighborhood, the Garwood Residence is arguably the most exceptional residence in the area thanks to its private access and proximity to one of California's premier beaches.
"Grayfox has long been a preferred haven for Hollywood's elite." Says Malibu real estate expert Stephanie Smith of Coldwell Banker Previews. "Countless celebrities [of whom she declined to name], have called this exclusive Malibu locale home for many years."
Of the other Malibu homes designed by Lautner that have changed hands in recent years, only the Stevens Residence in Malibu Colony and the Segel House on Caron Beach have sold for more per square foot than the Garwood Residence.
The price of the Garwood Residence, which measures 3,650 square feet in size, calculates to be $3,836 per square foot. The Stevens Residence, which currently lists for sale at $22 million, last sold for $13.8 million – an approximate cost of $4,100 per square foot. In 2007, former Los Angeles Dodgers co-owner and chief executive Jamie McCourt paid $27.25 million, or $6,075 per square foot, to buy the Segel House from actress Courteney Cox and actor David Arquette.