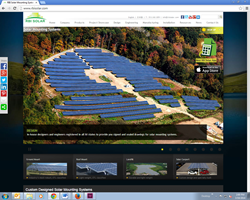 "RBI Solar respects customer privacy and does not store or share any of the entered data," said Harman Kaur, Marketing Director. "This app is designed to calculate the inter-row spacing for commercial and utility scale PV projects."
Cincinnati, OH (PRWEB) March 20, 2014
The new RBI Solar Shading Calculation app is available for free download from the App Store. The solar shading app helps users to determine the post to post distance and inter-row spacing in the field using smart phones and tablets. Users can enter the geographical location, tilt-angle and solar module height. This app calculates the post to post distance and inter-row spacing based on the input data.
"RBI Solar respects customer privacy and does not store or share any of the entered data," said Harman Kaur, Marketing Director. "This app is designed to calculate the inter-row spacing for commercial and utility scale PV projects. Soon this app will be available on Android."
This app is an important tool for designer and engineers working on large scale PV projects. Prior to the release of this app, the RBI 'solar calculator' was a popular tool among PV designers. This app is one of many complementary services that RBI Solar offers to its customers.
As you use the app, RBI Solar would welcome any suggestions or bug reports you may have; let us know at info(at)rbisolar(dot)com.
About RBI Solar
RBI Solar, Inc. is the leading turn-key supplier of solar mounting systems. As a specialist in ground mount, roof mount, landfill solar, and custom designed specialty solar structures, RBI Solar focuses on providing best-in-class racking systems, installation services and project management capabilities to serve owners and integrators. RBI Solar has engineers on staff licensed in all 50 states and offers complete design, hi-tech manufacturing, nationwide installation, and technical support to help solve the toughest challenges in the industry. Leveraging more than 80 years of experience in the commercial design-build specialty structures market, RBI Solar works with its clients to identify the most economical, durable and robust solution for solar installations.