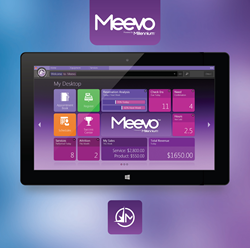 Parsippany NJ (PRWEB) March 25, 2014
Millennium Systems International, makers of the beauty industry's most award-winning salon software program, Millennium, is excited to announce their launch of Meevo™. Known for educating salon/spa owners and their staff on vital business strategies, Millennium has been busy developing a ground breaking system derived from decades of client feedback, industry knowledge and experience. Combine that with some of the smartest developers in the software industry and talented graphic artists and you have Meevo; beautiful, wireless, and built for anyone and any scenario. Meevo is made for touch, tablets, and full-sized PCs/Macs; it's cloud-based, web-based and even installed-based. The most mind-blowing part; you can actually communicate with Meevo's patented Convobar®. Just type what you want it do and Meevo does it. The Convobar understands commands. It allows users to type in the requested service, service provider, and dates from anywhere in the system.
Meevo's Smart Center helps clients navigate through the system as it feeds important live metrics through smart tiles. Not only does it provide a bird's eye view of the clients business needs, it gives them the ability to take immediate action when necessary. The Smart Center is role based, so the user only sees what their required to see, and it secures sensitive information based on the users job function. The best part is Millennium clients can customize each smart tile to match their business. They can change the shape of the smart tiles, brand the smart center with your colors/images, and even add links to their websites and social platforms such as Facebook and Twitter.
Meevo's Success Center is the most innovative way to motivate employees and management, to pre-book, add on retail sales, and increase profits. This is a game changer for the industry. Meevo will allow the salon staff to challenge each other to be more productive in the salon. The Success Center will feature leader boards showing live totals throughout the day, rewarding the top performers with prizes selected by owners and/or managers. It's a revolutionary way to bring welcomed competition to any salon.
Meevo will revolutionize any salon, regardless of the size. The simplistic touch interface on top of all the innovative ways to motivate staff and interact with the system will allow the salon to operate on a very high level. It will create a more organized and productive environment; and the efficiency alone of this system will generate more revenue, immediately impacting the bottom line.
To learn more about Meevo please visit http://www.Meevo.com.
About Millennium Systems International
Millennium Systems International provides the beauty, medical, and fitness industries with innovative, powerful business solutions. Built on the promise of being a valuable, trustworthy partner who offers the tools you need to improve and grow your business. Today, Millennium is utilized in thousands of businesses in over 38 countries. Operating with over 100+ employees worldwide, Millennium currently runs its corporate headquarters out of New Jersey and its international office is based in the U.K. Millennium is Microsoft Gold Certified and a certified Dell distributor. For more information, visit http://www.millenniumsi.com
Matt Martinelli
Millennium Systems International
(973) 402-9500 x152
mattm(at)millenniumsi(dot)com