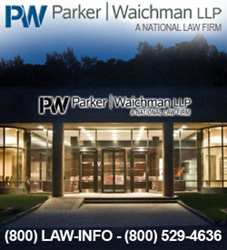 The financial relationships that are present in our health care system have recently drawn significant controversy and attention.
New York, New York (PRWEB) March 20, 2014
The $85 million proposed settlement announcement came just before jury selection was conducted in the case, which involved Halifax Health's physician compensation deals. The jury would have been determining if those deals violated laws concerning conflicts of interest, according to a March 3, 2014 report by Modern Healthcare. The case, reports national law firm, Parker Waichman LLP, is United States ex rel. Baklid-Kunz v. Halifax Hospital Medical Center, et al., No. 09-cv-1002 (M.D. Fla.).
If approved by the judge overseeing the matter, U.S. District Judge Gregory Presnell, the proposed settlement would resolve one part of a two-part matter involving Halifax Health's physician compensation deals and potential conflicts of interest.
The case involves the largest damage amount in a potential civil whistleblower case brought against one hospital—one billion dollars is at stake Modern Healthcare reported. The case also followed another recent case brought over similar allegations against a hospital in South Carolina that ended with a $237 million judgment. (U.S. ex rel. Drakeford v. Tuomey Healthcare System Inc., case number 3:05-cv-02858, in the U.S. District Court for the District of South Carolina) The South Carolina case settled for nearly triple the amount of the proposed Halifax settlement.
Halifax Health chose to settle the first half of the case against it out of court, which involved allegations that hospital administration illegally paid nine neurologists and medical oncologists for Medicare patient referrals to Halifax, according to the Modern Healthcare report. The whistleblower in this case is a former Halifax compliance officer who remains an employee at Halifax, but in a different role. In 2009, the whistleblower brought a lawsuit accusing administrators at Halifax of paying doctors increased rates, as well as paying bonuses for the most active of these physicians, using Halifax's portion of funds meant for Medicare, the Modern Healthcare report indicated. A settlement-in-principle has been proposed for $85 million. If approved by Judge Presnell, the whistleblower will receive $20.8 million of the $85 million settlement.
If the allegations were proven, then the Halifax arrangements would have been found to have been in violation of the Stark Law, which forbids physicians from referring Medicare and Medicaid patients to business entities with which they share a financial relationship, including a compensation arrangement. Should the allegations have been determined to have been conducted intentionally, violations of the False Claims Act and the federal Anti-Kickback regulation might be involved. This could increase damages three-fold, which could increase costs for Halifax to hundreds of millions of dollars, according to the Modern Healthcare report. In 2011, the Justice Department joined in the qui tam allegations against Halifax and alleged violations of the False Claims Act, the Stark Law, and the federal Anti-Kickback Statute.
Even if this settlement is approved, Halifax still must litigate the separate whistleblower allegations in July; the Justice Department did not join in this related case. In this second matter, the whistleblower alleged that Halifax ignored obvious signs that it billed Medicare for inpatient hospital care in cases in which medical need had not been documented. Halifax officials denied the allegations, according to Modern Healthcare.
"The financial relationships that are present in our health care system have recently drawn significant controversy and attention," said Gary Falkowitz, Managing Attorney at Parker Waichman LLP. "Our fear is that these relationships may lead to scenarios in which patients are no longer the primary focus in health care decisions."
Parker Waichman LLP supports whistleblower efforts to report illegal activities that may harm to citizens. The firm continues to offer free legal evaluations to those individuals who believe their companies may be involved in wrongdoings. If you believe that your company is involved in illegal activities, or for more information, please visit the firm's Whistleblower page at yourlawyer.com or call 1-800-LAW-INFO (1-800-529-4636).
Parker Waichman LLP
Gary Falkowitz, Managing Attorney
1+ (800) LAW-INFO
1+ (800) 529-4636
http://www.yourlawyer.com