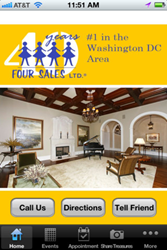 Our mission is to fulfill estate liquidation requests in a manner that is respectful to the families and individuals we work for and to do so in a financially successful manner.
Washington DC (PRWEB) March 20, 2014
Four Sales Ltd released three new videos describing its business and best industry practices recently. The video is meant to describe the business and industry best practices for Estate Sales DC, Estate Sale Potomac MD, Estate Sales VA.
Four Sales, Ltd., founded in 1972, is the leading and most innovative estate sales company in the Washington metropolitan area. During the past 40 years, Four Sales has conducted and presented over 3,000 estate sales in the Greater DC-Metro Area. Four Sales headquarters is in Alexandria, Virginia and they have regional offices in Charlottesville, Virginia and Annapolis, Maryland.
Four Sales prides itself in presenting estates with energy, integrity and intelligence. The company has over 40 years in the estate sales business and is backed by over 3000 satisfied clients who would attest to the essential attributes necessary to feature successful estate sales. The company consistently sells 90-95% of the value and 80-85% of the contents of each estate sale event. References are always provided gladly.
Four Sales services includes:
On-premises estate sales
Consignment sales Live collectibles auctions
Auction Brokerage
Appraisals for estate, fair market, insurance uses
Jewelry appraisals
Four Sales works hard to present estate and moving sales with energy, integrity and intelligence.Their staff understands that the liquidation of a lifetime of possessions – be it one's own or a loved one's – can be an ordeal. Four Sales brings not only years of experience, but compassion to this type of life transition. They are equally committed to creating a pleasant shopping environment for customers to select the perfect gift for a loved one, expand their collections of favorite items or decorate their homes with unique pieces.
Give Four Sales LTD a call now at phone number (703) 256-8300 or you can also visit their website at http://www.foursales.com.