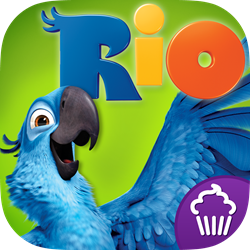 We're delighted to be working with Twentieth Century Fox Consumer Products on this series of entertaining apps featuring different aspects of the RIO franchise.
(PRWEB) March 20, 2014
Cupcake Digital, Inc. has signed a global deal with Twentieth Century Fox Consumer Products to bring Blu and Jewel, the stars of the upcoming RIO 2 film and the 2011 feature film, RIO, to mobile devices with new interactive storybooks and activity apps. Fans of the lovable blue macaws and their wacky friends will have fun reading along, engaging in interactive games and getting creative with coloring pages featuring favorite characters.
"We're delighted to be working with Twentieth Century Fox Consumer Products on this series of entertaining apps featuring different aspects of the RIO franchise --- music, dance, adventure, family and friendship will all figure prominently," said Amory Millard, Cupcake Digital, EVP of Brand and Business Development. "Our release plan takes advantage of key elements associated with the new film as well as favorite themes that appeal to fans of all ages."
This official RIO Movie interactive storybook app with activities and games for kids is based on the first film and slated for release March 20. The official app for the RIO 2 movie will be available April 3, before the film hits theaters. Additional RIO apps are scheduled for release surrounding the DVD release and ongoing.
The apps will be available on the Apple App Store, Amazon Appstore for Android and Google Play for a limited-time introductory price of 99 cents (full price is $2.99). The first RIO app will include the following features:
Deluxe storybook that brings to life all the action and characters from RIO.
Two interactive games:

Jewel's Gems: Mix-and-match puzzle game
Blu's Rescue: Leveled game for kids of all ages
Coloring pages with a variety of special effects and stickers.
"The growth of the digital book and app market has given Fox Consumer Products the opportunity to engage RIO fans in a highly interactive way," said Roz Nowicki, executive vice president of global sales and retail at Twentieth Century Fox Consumer Products. "Partnering with innovative storybook app developer Cupcake Digital delivers the technology to propel one of our core brands into the digital book and apps space."
###
About RIO and RIO 2
From Fox Animation Studios and Blue Sky Studios – the creators of Ice Age, Epic and Robots – the musical animation adventure comedy RIO tells the story of how rare blue macaws Blu and Jewel meet and fall in love in Rio de Janeiro during Carnival. The entire cast of the animated smash RIO returns in RIO 2, and are joined by a new flock of top actors and musical talents.
Rich with grandeur, character, color and music, RIO 2 finds Jewel (Anne Hathaway), Blu (Jesse Eisenberg) and their three kids leaving domesticated life in a magical city for a journey to the Amazon. They encounter a menagerie of characters that are born to be wild, voiced by Oscar® nominee Andy Garcia, Oscar/Grammy®/Emmy®/Tony® winner Rita Moreno, Grammy winner Bruno Mars and Tony winner Kristin Chenoweth. Rio 2 also features new Brazilian artists and original music by Janelle Monae and Wondaland.
About Cupcake Digital
Cupcake Digital, Inc. gives kids the opportunity to interact with the characters they love by transforming children's entertainment properties into award-winning apps. In February of 2014, Cupcake Digital acquired zuuka Inc., developers of the popular iStoryTime Library, effectively positioning Cupcake Digital as a top independent kids app developer with over 250 titles and 8.5 million downloads. Cupcake Digital apps are created by parents for kids and are consistently top-ranked on the Apple App Store, Amazon Appstore for Android, Google Play and the Barnes & Noble NOOK Store. Cupcake continues to delight kids with an ever-growing slate of beloved brands that includes "Wow! Wow! Wubbzy!®," "Fraggle Rock," Strawberry Shortcake, VeggieTales, Yo Gabba Gabba!, Animal Planet, The Smurfs, Puss in Boots, How to Train Your Dragon, Madagascar, Shrek and Kung Fu Panda. For more information about Cupcake Digital Inc., please visit http://www.cupcakedigital.com.
About Twentieth Century Fox Consumer Products
A division 21st Century Fox and recognized industry leader, Twentieth Century Fox Consumer Products licenses and markets properties worldwide on behalf of Twentieth Century Fox Film Corporation, Twentieth Century Fox Television and Fox Broadcasting Company, as well as third party lines. The division is aligned with Twentieth Century Fox Television, the flagship studio leading the industry in supplying award-winning and blockbuster primetime television programming and entertainment content.