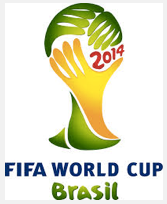 London, Barcelona (PRWEB UK) 20 March 2014
Garment Printing is proud to announce its involvement in the World Cup 2014 taking place in Brazil this year. Screen printed t-shirts for global brands, promotional merchandise for corporate clients, and printed tote bags are just some of the thousands of products currently being produced by Garment Printing for the World Cup 2014.
The colourful and brilliant printed t-shirt designs and printed tote bags designs reflect the rich culture of Brazil, and Garment Printing is the company to bring these designs to life on printed t-shirts. With a long experience in the printing industry and the newest technology in DTG printing, such as the Brother GT-3, Garment Printing brings full-coloured designs onto textiles, making them look amazing.
Garment Printing is very excited to be part of the World Cup 2014, and priority number one is to make the clients 100% happy. Always having this priority in mind, Garment Printing offers a customer satisfaction guarantee – if there are problems with an order, a money back guarantee is offered. This of course does not only apply to big companies and important events such as the World Cup 2014, but for every client. Every client is treated the same at Garment Printing.
Just like the World Cup 2014, Garment Printing works under the motto "All in one rhythm", where teamwork is essential. To guarantee success for the clients, areas such as sales, marketing, graphic design and production work together closely and ensure synergy and perfection in the end result.
Don't miss the first match in the tournament on June 12th with Brazil playing against Croatia where on display will be many printed items supplied by Garment Printing on display and for sale.
Don't miss out on Garment Printing's 2014 World Cup offer. Garment Printing is offering a 10% discount for football printed merchandise, customised with a national flag or whichever printed garment or product is needed to support the team and country.
Request a quote now with promo code WC201410%.