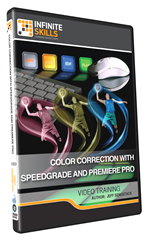 Learn Color Correction with SpeedGrade and Premiere Pro at your own speed
(PRWEB) March 20, 2014
Software training firm Infinite Skills Inc. this week introduced its "SpeedGrade and Premiere Pro Color Correction Tutorial," an advanced course helping experienced video editors master color enhancement and the interaction between the color toolsets of Adobe Premiere Pro and SpeedGrade.
Adobe Premiere Pro has long been among the industry leading video editors. It has a powerful toolset for color correction in its own right, but these tools are only enhanced when used in concert with SpeedGrade, Adobe's dedicated video grading application.
Infinite Skills' SpeedGrade and Premiere Pro Color Correction Tutorial is designed to help video editors learn to use these two programs together in a workflow to produce distinctive, vibrant colors and tones for any type of video production.
Learning Color Correction with SpeedGrade and Premiere Pro Video Training - Streaming
Course author Jeff Sengstack is an Adobe Certified Expert, having authored more than 300 articles and nine books covering various areas of digital media production using Adobe products and other programs. After a career in television news, where he learned the process of video production from daily hands-on experience, Sengstack has turned his attention to training and education, working as a consultant, author, and professor at Santa Rosa Junior College, where currently he teaches video production.
Following an introduction and overview of the Premiere Pro and SpeedGrade workflow, Sengstack dives into the color correction tools included in Premiere Pro, explaining how to set up a color correction workspace and work with its color correction tools and features.
Sengstack then goes on to explain how to adjust tonality, perform overall color correction, and secondary color correction in Premiere Pro.
The course then shifts focus, looking at the interaction between SpeedGrade and Premiere Pro, as Sengstack demonstrates how to use the two programs in a workflow. Here, he introduces the SpeedGrade toolset and explains how to adjust both primary and secondary color and tonality using SpeedGrade's unique workspace and feature set.
The course then closes with a look at working with effects, using look-up tables, and creating, applying, and saving custom looks.
"We will be working with both Premiere Pro and SpeedGrade. Premiere Pro offers a complete toolset for color, but SpeedGrade allows you to enhance those tools," Sengstack explains.
"SpeedGrade is a whole different approach, so I'm going to show you both approaches in this video, and how you can use them together to enhance you color grading capabilities."
Free demo videos and a full list of course contents can be found on the SpeedGrade and Premiere Pro Color Correction training page of the Infinite Skills website:
http://www.infiniteskills.com/training/color-correction-with-speedgrade-and-premiere-pro.html
Infinite Skills offers its SpeedGrade and Premiere Pro Color Correction Tutorial either as a DVD or a direct download from the company website at a retail price of $49.95. Though the compatibility of programs varies, all Infinite Skills titles and formats are compatible with both Mac and Windows operating systems, and shipping is available around the globe. Additionally, Infinite Skills tutorials are supported by project files which correspond to examples in the videos.
About Infinite Skills Inc.
A leader in the field of software training, Infinite Skills designs its courses on a task-oriented model, teaching complex skills by providing hands-on examples and guiding users as they carry out essential functions. Infinite Skills offers a wide range of software titles available as DVDs, digital downloads, and in iPad editions. Infinite Skills now offers a subscription service, providing access to all its training content for a monthly fee, keeping with company's aim of delivering professional training to customers anywhere they want to learn.