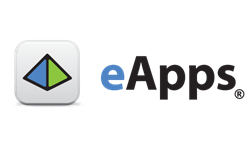 4T Networks is excited to join a company with dedication to the customer's needs and a long term goal of providing innovative, effective hosting services. The future is bright for our company and customers.Kevin Gray, Director of Products and Services
Atlanta, GA (PRWEB) March 24, 2014
eApps Hosting and 4T Networks have announced a merger, effective March 13, 2014. The combined company will operate as eApps Hosting and will offer Cloud hosting services using technologies from OnApp, VMware, Zimbra and other leading vendors to customers on a world wide basis. eApps and 4T Networks have each built a reputation over the years for providing high quality hosting services with responsive, personalized service for mission critical web sites and applications. The combined entity will continue this business philosophy.
Kevin Gray, formerly President of 4T Networks, has assumed the position of Director of Products and Services for eApps. Mr. Gray has a Bachelor of Science in Management degree from the prestigious Georgia Institute of Technology and brings along 14 years of experience in the hosting industry to the eApps Management team. He will head up the company's efforts to offer innovative hosting services that are easy to use, secure, reliable and have high performance.
Mr. Gray will lead the team that is responsible for the continued development of the Create-A-Cloud® service, a hosting service that allows precise selection and adjustment of RAM, CPU, disk and other computing resources resulting in the provisioning of a custom Linux or Windows Virtual Server within minutes. Expansion of the combined company's VMware based Disaster Recovery hosting service, and Zimbra enterprise email service, is also underway.
For additional information contact eApps Hosting at +1-770-448-2100 USA or +44 (0)20 8133 6940 UK, Skype: eappshosting, or visit http://eApps.com for on-line chat assistance. The Create-A-Cloud® tool can be accessed at http://Create-a-Cloud.com/.
About eApps
eApps Hosting is a value-added provider of cloud hosting services for businesses and organizations, serving more than 5000 customers, hosting over 15,000 domains in more than 125 countries. eApps Hosting offers Cloud hosting and related services for commercial-grade web sites, web applications and email services. The company has a reputation for middle-ware expertise, responsive and effective in-house 24/7 technical support, and personalized service in all aspects of the customer relationship. eApps has been providing hosting services since 1996.
About 4T Networks
4T Networks, founded in 2004, joined with eApps Hosting as a highly respected provider of Cloud hosting and Disaster Recovery (DR) solutions. The company's VMware based DR services have been relied upon for continuity of services for major entities when their primary data center experienced outages, including the disaster created by Hurricane Sandy in the Northeast US.