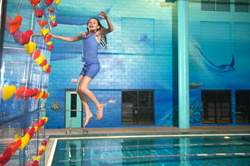 Many of the products exhibited this year came from collaborating with the very folks who are attending. We look forward to this event all year long.
Mendota Heights, MN (PRWEB) March 24, 2014
Starting April 1, the convention in St. Louis, MO will bring together over 5000 health, physical education, recreation, dance and sport professionals and over 200 exhibitors. A new name isn't the only thing innovative at this year's Health and Physical Education Conference. What was formerly the Association for Health, Physical Education, Recreation and Dance (AAHPERD) is now SHAPE, the Society of Health & Physical Education. And SHAPE will bring to us an assortment of new products aimed to get kids moving, active and healthy.
Everlast Climbing, one of SHAPE's longtime members and exhibitors, has been serving this market for over 20 years. Each year they bring the latest and greatest in educational climbing products to show to the groups of Elementary, Middle and High School educators that attend the show. So what's being featured this year? Everlast Climbing will be featuring a range of products from its latest wall surfaces, to climbing accessories and even a climbing wall for the pool.
Designed to bring success to children of all ages and abilities, the climbing products from Everlast Climbing work to engage those children not typically interested in physical activity. Unique variations of their climbing walls, like the Dry-Erase Climbing Wall, feature a write-on, wipe-off and magnetic surface and provide opportunities to link physical activity with other curricular areas. Innovations such as the Adaptive Climbing Wall, provide easy-to-grip hand holds and ledge foot holds giving children with special needs extra support, stability and the chance to try a sport they might otherwise shy away from. Another product, the Safari Jungle Gym, offers challenges similar to those found on low-ropes courses and expands the climbing category and the use of a gym beyond physical education classes. Safari elements like cargo nets and monkey bars are great options for indoor recess and for after-school programs. Perhaps the most distinctive innovation from Everlast Climbing is the Kersplash® Pool Climbing Wall. The pool climbing wall attaches to the side of the pool and allows users to climb the wall and splash back into the pool. It is not only fun, but also a great workout.
Director of Marketing for Everlast Climbing, Tracy Whitney, says, "The National SHAPE show is our best show of the year. We get a chance to connect with world-class educators, many of whom have become friends. We love hearing how our products help their students achieve fitness goals. We also get new product ideas at the show." She said, "Many of the products exhibited this year came from collaborating with the very folks who are attending. We look forward to this event all year long."
About Everlast Climbing
Everlast Climbing is committed to improving youth fitness with dynamic and innovative products that engage children and inspire physical activity. The company is headquartered in Mendota Heights, MN, and is part of EverActive Brands, a division of PlayCore of Chattanooga, TN. More information is available about Everlast Climbing at http://www.everlastclimbing.com. More information is available about PlayCore at http://www.playcore.com.