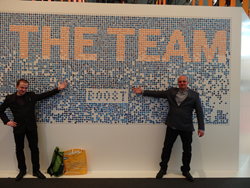 Kilian and Ruchlicki spoke with various vendors about project management programs Boost Software
Hanover, Germany (PRWEB) March 24, 2014
Boost Software Poland Technical Director Mariusz Kilian and Senior Developer Stan Ruchlicki attended the CeBIT 2014 conference that ran from March 11-14th, 2014. This international IT fair that took place in Hanover, Germany presented innovations from around the world.
Kilian and Ruchlicki spoke with various vendors about project management programs Boost Software could possibly use. In addition, they kept tabs on recent SSL encryption advancements and learned more about how to develop improved email scanning for protection against malware.
They even chatted with one of the most well-known companies in the world: Eset Internet Security. The conversation increased awareness of new possibilities for Boost Software product development.
"This was likely the most wide and fruitful discussion we had over there," said Ruchlicki.
Both he and Kilian asked Eset quite a few questions about how to create a social watch plugin and discussed ways to enhance message security. This face-to-face interaction also provided insight on reducing spam and malware instances. Additionally, they talked about the possibility of collaborating on new security enhancement projects in the future.
Furthermore, they had the chance to speak with someone from Security Software. Kilian said they wanted to find out more about "AV area especially." The information they receive about anti-virus programs may have an impact on new releases of PC HealthBoost and other Boost Software products.
The Boost Software Poland office opened in 2013. Since then, its development staff worked around the clock to produce the latest version of PC HeathBoost. They also have additional projects in the works, one of which includes an upcoming release of PC SpeedBoost.
For more information about Boost Software and their latest products mean to boost speed and health of computers, visit BoostSoftware.com. Please also contact Public Relations Manager Erin Walsh. Otherwise, email Mariusz Kilian directly at mariusz(at)boostsoftware(dot)com.