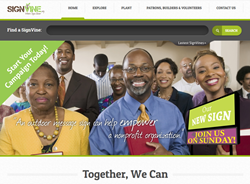 The pledge level names are great. Our school will love them! We can't wait to start.
Ontario, CA (PRWEB) March 20, 2014
SignVine.org, is the world's first and only specialized crowdfunding website that provides churches, civic groups and other deserving non-profit organizations a platform to accept donations towards the purchase of an outdoor message sign is now online at: http://www.signvine.org.
Paul Martin, Project Director, announced that the first release of the website had been installed and was already generating interest in both the Sign Industry and in the Non-Profit world. The excitement is growing.and many of the non-profits onboard are thrilled to be first and offer feedback for the future of SignVine.
"It's great fun to actually begin this journey! The website is online with a sample campaign, so everyone can see our 'product'. We are currently working with several non-profits with plans to go live with real campaigns by April 1st, but our presence is now on the web," Martin said.
Are you a non-profit looking for a way to raise funds towards a new outdoor message sign? SignVine could be your solution. They are ready to help.
For more information on SignVine, please visit their Website at http://www.signvine.org or call 850-677-1099 and speak with Mike Prongue.