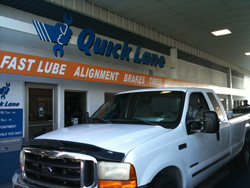 (PRWEB) March 21, 2014
With this landmark opening, we find ourselves asking, where did it all begin? The answer is, nowhere else but in Port Charlotte, Florida. When Don Gasgarth took over at Charlotte County Ford in 1990 it was clear he had a vision for success. When Ford Motor Company approached him about becoming one of the first dealers to pilot the Quick Lane program Mr. Gasgarth quickly committed, opening the doors in November 1997 and is now credited as being the oldest Quick Lane in the program. Being first always presents challenges and opportunities but, its success has led to a thriving business model that is spreading like wildfire across the country. Now, in just over 16 years, what started with one became 700 Ford Quick Lanes in operation, and there's no end in sight for their growth.
As one of the fastest growing services in this industry, Ford Motor Company's Quick Lane service boasted record high sales in 2013 – approaching $800 million, with a staggering 1.4 million tire sales (a full 11 percent higher than the industry average).
"Most likely, what makes it so successful is Quick Lanes focus on the people." Said Frederiek Toney, vice president of Ford Motor Company and president of Ford Customer Service, "Quick Lane works for everyone…For the customer, it's easy in, easy out, and fast, high-quality service all around. For the dealer, it provides a steady stream of new customers from all makes, a significant portion of who sometimes transition to Ford vehicle ownership. For the community, Quick Lane is another source of jobs, and represents early career experience for young technicians who develop essential trade skills before moving on to bigger jobs in the dealership repair shop."
The successes of Quick Lanes across the U.S. have led Ford to find new ways of reaching customers and strengthening the business. In the past year Ford has added new humorous digital ads and a whole new advertising campaign to show the nation what Quick Lane has to offer customers in vehicle maintenance.
What exactly does it have to offer? Quick Lane is the place to take a vehicle for walk-in (drive-in?) maintenance and light repairs including tires, brakes, batteries and filter and fluid services. And while waiting, trained technicians promise full-service treatment including a detailed vehicle check-up to make sure everything is running as it should be. With the ability to offer guaranteed best pricing on 11 brands of tires such as Michelin, Goodyear, Continental and Pirelli. Quick Lane has a wide selection of tires in stock, for all makes and models of cars and trucks. In fact, in 2013, one fourth of the cars serviced by Quick Lanes nationally were from competitive makers – as sure a sign as any that Quick Lane has figured out how to do it right. Combine price and selection along with quality Motorcraft© Parts that carry, an industry leading 24 Month, Unlimited Mileage warranty and consumers always get the best value for the investment.
Thanks to the early and continuing success of Don Gasgarth's Quick Lane all signs point to a great future for the newest Quick Lane store in Grapevine, Texas. And with more stores opening around the world, this business is sure to become a global sensation.