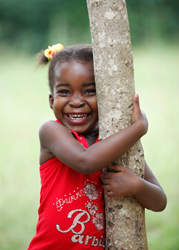 With just a little effort on our part, we can give the 1.5 million children who die each year from a vaccine-preventable disease a healthy shot at life.
Washington, D.C. (PRWEB) March 21, 2014
Today, the United Nations Foundation's Shot@Life Campaign, which helps expand access to life-saving childhood vaccines globally, launched a nationwide challenge calling on Americans to stand up for child health. "Advocate2Vaccinate: A coast-to-coast challenge for global vaccination" is a month-long campaign engaging Americans across the country to call on Congress to support global vaccinations.
"Individual voices, when joined together nationally, can have a significant impact on vaccinations globally," said Devi Thomas, Director of the Shot@Life Campaign. "The Advocate2Vaccinate challenge engages Shot@Life supporters from across the country to call on their policy makers this spring to ensure that global vaccination programs are supported, giving every child, no matter where they live in the world, a healthy shot at life."
The challenge kicks off Monday, March 24. Throughout the month, hundreds of individuals from Shot@Life's network of volunteers, referred to as "Champions," will hold in-district meetings with Congressional representatives, host events, call their member of Congress using the Shot@Life mobile app, or publish blog posts or opinion pieces to raise awareness for global vaccines. The Champions aim to reach 500 advocacy actions by World Immunization Week (April 21-27).
"As a polio survivor, I know how crucial early childhood vaccinations are for children around the globe," said Dennis Ogbe, U.S. Paralympian and Shot@Life Champion. "With just a little effort on our part, we can give the 1.5 million children who die each year from a vaccine-preventable disease a healthy shot at life."
To learn more visit http://www.advocate2vaccinate.org.
###
About Shot@Life
Shot@Life, a campaign of the United Nations Foundation, educates, connects and empowers Americans to help protect children in developing countries from vaccine-preventable diseases. By joining this movement, you can help save a child's life every 20 seconds by learning about, advocating for and donating vaccines to children who need them most. Go to ShotAtLife.org to learn more.
About the United Nations Foundation
The United Nations Foundation, a public charity, was created in 1998 with entrepreneur and philanthropist Ted Turner's historic $1 billion gift to support UN causes and activities. The UN
Foundation builds and implements public/private partnerships to address the world's most pressing problems, and works to broaden support for the UN through advocacy and public outreach. Through campaigns and partnerships, the organization connects people, ideas, and resources to help the UN solve global problems. The campaigns reduce child mortality, empower women and girls, create a new energy future, secure peace and human rights, and promote technology innovation to improve health outcomes. These solutions are helping the UN advance the eight global targets known as the Millennium Development Goals (MDGs). For more information, visit http://www.unfoundation.org.