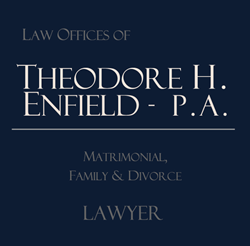 Miami, FL (PRWEB) March 21, 2014
Divorcing parents may spend a lot of time thinking about child custody arrangements. Each considers whether he or she wants custody and if so, how much and what type. There are several types of custody. Parents should understand each one and should understand what factors are considered by family courts rendering or approving custody arrangements. When deciding whether to ask for joint custody or sole custody, it is essential to understand the differences and speak with an experienced child custody lawyer. Theodore Enfield, a family law attorney with over thirty years of experience dealing in Florida child custody laws, announces complimentary child custody consultations to assist parents in deciding on the right type of child custody.
Physical and legal child custody are two different things. Physical custody is the right to provide daily care for the children—in most cases, the children live with the parent providing the physical custody. Legal custody is the right to make key, long-term decisions about childrearing, such as their medical care, religion, and education.
Joint custody means that each parent participates equally. Parents are not usually awarded joint physical and legal custody because this is difficult to arrange. Sole custody grants only one parent exclusive custody rights. Sole custody is typically only received from divorce if the other parent has performed child abuse or is a drug addict.
In most custody cases, one parent, the custodial parent, receives primary physical custody. The non-custodial parent may receive visitation rights in order to spend time with the children according to a pre-determined schedule. There are situations in which parents share physical custody, or joint physical custody, and parents who receive joint legal custody in child custody cases are enabled sharing rights to make long-term decisions regarding the welfare of their children.
Whether parents decide to petition for joint or sole custody of the physical or legal variety, they will often need some help. Child custody Florida laws are complex and not universal, making it difficult to understand the proceedings. To win custody during divorce, many parents enlist the help of family law attorneys such as Theodore Enfield. He is a legal expert who understands how the system works and knows how to prepare strong custody cases for his clients so judges will rule in their favor. Speaking with divorce attorney Enfield is one of the best ways to know what a particular situation calls for and the differences that joint custody and sole custody will bring in the future.
Legal representation can also help parents avoid a custody fight during divorce that could damage their parenting relationship and affect their children. Parents should think about this before embarking on custody discussions because it can be difficult to alter the initial decisions. Receiving help from T. Enfield, one of the most experienced divorce lawyers in Miami, will help the proceedings to go as smoothly as possible.
To Contact Theodore Enfield please Call 305-933-9592, 800-733-5299 or visit http://www.theodoreenfield.com/