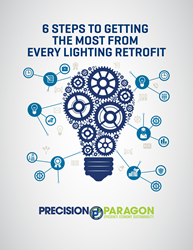 6 Steps to Getting the Most From Every Lighting Retrofit
Yorba Linda, Calif. (PRWEB) March 20, 2014
It's a little-known fact that the majority of energy-efficient lighting retrofits leave significant energy savings on the table. A book released today by energy-efficient lighting manufacturer Precision-Paragon [P2] aims to help building owners and lighting professionals identify and maximize potential sources of energy savings.
"6 Steps to Getting the Most From Every Lighting Retrofit" is available for free as a downloadable e-book on the lighting manufacturer's website at http://www.p-2.com/6-steps/index.html. The 21-page guide walks readers through valuable energy-saving steps that are missed in many lighting retrofits.
The guide's first chapter opens at the starting point for nearly all lighting upgrades: a one-for-one replacement, where existing fixtures are swapped out with more energy-efficient replacements.
"A one-for-one replacement is a fine place to start," said Joe Martin, [P2] vice president and general manager. "The problem is that if you stop there, it's almost certain that you're missing out on significant additional energy savings. We put together this guide to help building owners and energy-efficient lighting professionals learn about these opportunities so they can be incorporated into their next retrofit."
The book covers additional steps, including performing a comprehensive layout and specification, adding automatic lighting controls, addressing outdoor lighting, addressing specialty lighting, and finding and qualifying for rebates and incentives.
By following all the steps in the guide and performing a truly comprehensive retrofit, it's possible that a facility could more than double their energy savings when compared to performing a simple one-for-one retrofit. The six steps are applicable to a wide range of manufacturing, commercial, industrial and educational facilities.
"It can take a bit more work to perform a truly comprehensive retrofit," said Martin. "But the potential energy and cost savings are too big to ignore."
---
About Precision-Paragon [P2]: For over 20 years, [P2] has made high-quality, indoor-and-outdoor light fixtures for a wide range of applications in retail, commercial and industrial spaces. [P2]'s energy-efficient lighting drastically cuts energy consumption, creating big cost savings and significant environmental benefits.
Over the last two decades, [P2] has earned a reputation for going the extra distance in customer support by producing high-quality, American-made products. [P2] products are manufactured in Hudson, Wis. and at the company's headquarters in Yorba Linda, Calif.
Website: http://www.p-2.com