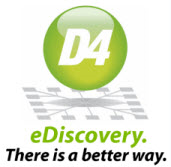 We are proud to have Paul and Jason join our team. Their years of experience in the Litigation Support and Discovery industry bring the added expertise needed to support our expanding customer base
New York, NY (PRWEB) March 20, 2014
D4, LLC, a national provider of eDiscovery, digital forensics, deposition services and litigation support to law firms and corporations, today announced that it has moved its New York City regional headquarters to accommodate revenue and employee growth. The new premiere facility, located at 485 Seventh Ave, is a significant upgrade in both size and capability compared with D4's previous New York location.
In addition to the expanded footprint, D4 has added two industry veterans to the team. Paul Allieri and Jason Schroeder, both formerly of The Darcel Group, have joined D4's New York City operation. Allieri will be Regional Vice President of the New York City office, and brings 20 years of experience in litigation support and document-related technologies to D4, including extensive work with major law firms and corporate law departments. Prior to his nine years at The Darcel Group, Allieri spent eleven years in strategic positions at IKON Office Solutions.
"We are proud to have Paul and Jason join our team. Their years of experience in the Litigation Support and Discovery industry bring the added expertise needed to support our expanding customer base," stated John Holland, CEO and Founder of D4. "We believe that our clients will benefit from their industry experience, and the company will continue to exceed our business goals."
"Our decision to expand operations in New York is driven by customer demand for our services," said John Rubens, COO, D4. "We look forward to continuing to work with the legal and corporate community to bring a full complement of D4 expertise to the region from our new location."
The new office is located at 485 Seventh Ave, Suite #510, NY, NY 10018. Please contact Paul Allieri, Regional Vice President at 646-666-9545 or newyorkcity(at)d4discovery(dot)com for more information regarding D4 services in New York.
About D4
D4 is a national provider of electronic discovery, computer forensics, litigation support and deposition services to law firms and corporations. D4 has been instrumental in helping customers realize up to a 70 percent cost reduction over previous eDiscovery solutions. Founded in 1997 in Upstate New York, D4 has grown to a national presence. With over 160 employees, D4 has offices in Buffalo, Chicago, Detroit, Grand Rapids, Lincoln, New York City, Omaha, Orlando, Phoenix, Rochester, San Francisco, San Diego and Tampa. D4's state-of-the-art Tier 3 data center and operations in Rochester are complemented by electronic discovery, litigation support and paper document services throughout our other offices across the country. D4 has been recognized by Inc. Magazine as one of the fastest-growing private companies in the US and is an INC 500/5000 honoree. Visit http://www.d4discovery.com for more information.